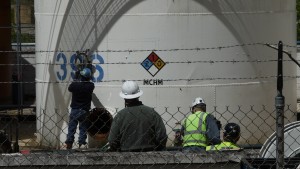 During the week of Earth Day 2018, WV PBS is airing the documentary What Lies Upstream.
The Independent Lens documentary is also available to stream online here. 
What Lies Upstream, the documentary about the 2014 MCHM water crisis, had its West Virginia premiere in November, 2017. OVEC helped make possible the water testing that is key to information shared in the film. To make the film, the directors interviewed more than 200 people, including some OVEC members.
Filmmaker Cullen Hoback told the Huntington Herald Dispatch, "What is happening in West Virginia is not unique, it is a microcosm. Charleston is the case study for something greater happening and a story that is playing itself out over and over again in this country. I think what is unique about West Virginia is how brazen the politicians are, and open about their willingness to work with corporate interests to undermine public health."
Hoback hopes the film rekindles people's activism on water issues: "I hope it will restart this conversation about these issues, because in this film are so many shocking revelations about what politicians are doing to regulations behind the scenes in the aftermath. I hope the community will be able to take this information and help shape policy and demand changes going forward."
The flick has screened at several prestigious indie documentary film festivals, and it won an award for investigative journalism at the 2017 Seattle International Film Festival.
What Lies Upstream has already aired a couple of times this week on WV Public Broadcasting. You can catch it on the WV Channel at 12 a.m. and 8 a.m. on April 19 and 12 p.m. on April 21.