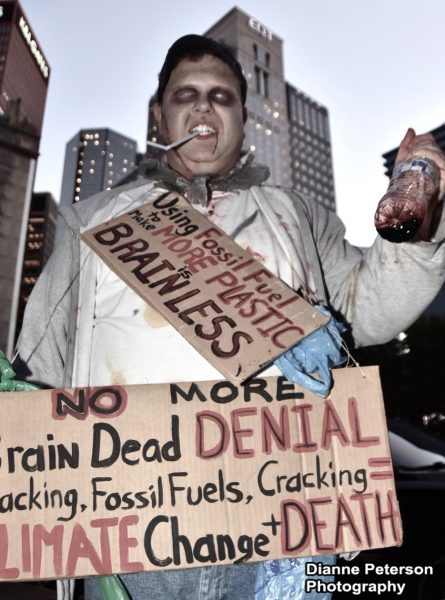 Thank you! You helped us top our #GivingTuesday goal of $1,000 toward our billboard campaign. We raised $1,145! So sad for petrochem-plastic zombies!
Help stop the petrochemical plastic zombie invasion!
Organizing along a 400-mile stretch of the Ohio River—all along West Virginia's border with Ohio, and then some—and a 70-mile stretch of the Kanawha River is pretty daunting for our little grassroots group. There are more doors than we can knock on.
That's why we need your help this #GivingTuesday for our billboard campaign. Overall, we are trying to raise $6,000 for a billboard campaign, but for #GivingTuesday our goal is $1,000 in small donations from people like you. Okay, sure, we'd also take big donations from people like you. 6 people donating $1,000 each? Sure, that would help! But please donate whatever you can today. Be sure to earmark your donation "billboard."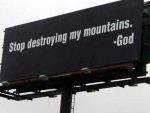 We know from past experience that billboards work. People notice them, talk about them, and seek more information. 
This billboard (left) helped us reach more people than we could have otherwise. When interested people reach out after seeing a billboard, then we can set up one-on-one meetings. That's how we add new volunteers willing to take actions that will help beat back the petrochemical plastic zombie invasion, AKA the proposed Appalachian Storage and Trading Hub (ASH).
ASH would be a grave threat to the drinking water of millions of people. Politicians dreams of locking us into a petrochemical future is flat-out nuts, especially in light of all the grave climate change studies and reports that have emerged in recent months.
WMO annual Greenhouse Gas Bulletin shows that concentrations of CO2 and other heat-trapping gases reach new record, driving #climatechange, more extreme weather, sea level rise and ocean acidification. No sign of a reversal in this trend. Details at https://t.co/1QnACIK4Jd pic.twitter.com/obUgQVLqHU

— WMO | OMM (@WMO) November 23, 2018
Of course, the billboards are just one component of our usual multi-pronged strategy for carrying out a campaign, one you can easily support and quickly see the results. This petrochemical beast is so big, we are working with a coalition of other groups, to raise awareness, call out shady, dirty government/industry deals, oppose permits, propose alternatives to a petrochemical future, and demand that this project never fully materializes. 
Help us nip this toxic stupidity in the bud. Help us crush the petrochem zombie invasion. Please donate whatever you can today. Be sure to earmark your donation "billboard."
You can help out another way right now, too, before the billboards go up. If you'd like one or more of these yard signs (see below), contact us at info@ohvec.org or call 304-522-0246.
And if you are in the area, come out to this on Tuesday, November 27:
and/or take this urgent action: Tell Ohio EPA that 3.5 school bus loads of pollution is not acceptable
#PetroFreeWV #PetroFreePA #PetroFreeKY #PetroFreeOH #NoASH