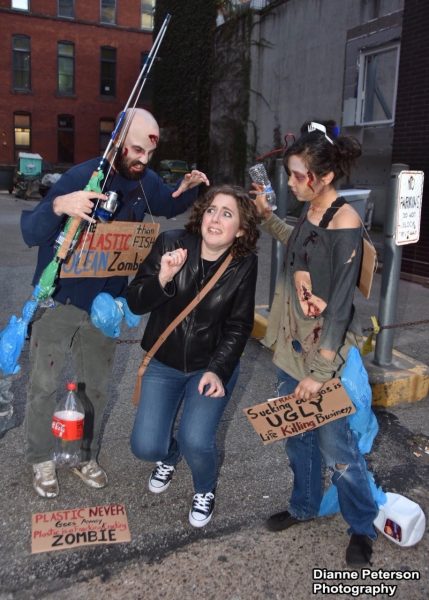 Urgent action needed re petrochem plastic plant: Tell Ohio EPA that 3.5 school bus loads of pollution is not acceptable
And if you are in the area, come out to this on Tuesday, November 27:
—-
The proposed Appalachian Petrochemical Complex (aka Appalachian Storage Hub—ASH—with the words Trading or Ethane sometimes thrown into the title) is one of the greatest threats to the Ohio River Valley we have seen to date. The project would span more than 400 miles of the Ohio and Kanawha Rivers, threatening the drinking water of nearly five million people. It would have dire climate implications, too.
The project would involve underground storage of fracked gas liquids, cracker plants, six large-diameter (36") pipelines that would run 386 miles along the Ohio River, carrying fracked gas liquids from Pennsylvania to the Marathon Petroleum refinery near the OVEC office in Huntington, WV. These, along with an additional three thousand miles of smaller pipelines, would transport fracked gas liquids to current and future petrochemical plants (most would produce plastics) along a 4-state corridor. All this would be fed by a massive increase in fracking in our already fracked region. All of this adds up to huge threats for and our region's water, air, climate, and public health.
OVEC's founder Dianne Bady was one of the first grassroots people to connect the dots and realize how massive this project would be and how much it could impact our region. Learning about ASH and sharing what she learned consumed much of the last couple of years of Dianne's life. Her blog series "It's Not a Done Deal: Say 'No!' to Appalachian Storage Hub"  helped sound the alarm on what could be heading our way.
The entire proposed infrastructure would encompass more than 50 counties in West Virginia, Pennsylvania, and Ohio. The sheer scale of this toxic petrochemical hub is one that no single group can fight alone. It will take the combined efforts of many groups and individuals working on all fronts to stop a monster like this; that's why OVEC is heavily involved helping to build a regional coalition of groups coming together to say no to petrochemicals and plastic manufacturing in our region.
To help inform, support ongoing work, and activate resistance, we've been focused on outreach to other organizations and communities within the proposed area of interest for the Hub. We have called on past allies and are finding new ones to work with. Our combined efforts are already bearing fruit.   
The networking started with information sharing among groups via meetings or conference calls.  OVEC is hosting monthly calls that focus primarily on work going on in West Virginia. Our longtime friends at the Center for Coalfield Justice lead regular calls focused on work going on in a broader region. These calls were one of outcomes of the People vs. Oil and Gas Summit that took place in Pittsburgh more than a year ago. Some of the groups involve include Marcellus Outreach Butler, The Breathe Project, Ohio Chapter Sierra Club, Freshwater Accountability Project, Mountain Watershed Association, plus many more.
In June, many of these allies worked to plan our first action together: We hosted the Paddle Against Petro "Kay-action" in Pittsburgh. About 50 people joined us on land and in kayaks to protest an industry conference (see page 3 of the Fall Winds of Change). Thanks to everyone's hard work and trust, we were able to get that action off the ground in just weeks. Since that successful action, we've continued working together.
We realize actions and protests alone are not enough to develop solid resistance to the Hub. Our work must also include leadership development and a shared sense of equity. Thus, our next venture as a growing coalition was the Grassroots Organizing Summit, held October 12-14 in Mount Pleasant, PA. The idea was to connect grassroots organizers across WV, PA, VA, OH, and MD who are working on petrochemical, fracking, and fracked gas infrastructure issues. About 75 people attended and participated in sessions focused on skill and knowledge building, organizing strategy, and relationship/trust building.
From the outset, it was important that the summit incorporate diverse voices—people identifying with different classes, ethnicities, religions, and more. The Catalyst Project facilitated the event and guided participants in anti-racism training. We were truly humbled to have Native leaders there to call out and guide us when we missed key elements. Although we may not have been able to cover everything we had hoped at the organizing summit, key outcomes include the steps taken toward building trust among groups and the recognition that this is ongoing work. 
That trust building and networking would prove valuable just a few days later, when we came together for three days of action during the Shale Insight 2018 Conference. The conference is an annual event where bigwigs from the oil, gas, and petrochemical industries convene to talk about their plans to make money off our region. 
On October 23, we kicked off the days of action with a "Petrochemical Zombie" invasion of Pittsburgh. A small group of folks dressed up as zombies made their way through the streets, meeting up at a local club where the Shale Insight attendees were having a reception. The zombies wore signs and handed out flyers to educate the public—and perhaps cause some discomfort to the industry reps attending the reception. However small, it was a fun action to kick things off and let our presence be known.
The next day was the Defend Our Water Day of Action. We started with a morning gathering at Point Park, where the Monongahela and Allegheny Rivers converge to make the Ohio River.  There, we joined Native leaders from the Seneca Nation, Ojibwe, and Standing Rock Sioux tribes, among others, for an amazingly powerful water blessing ceremony. After the ceremony, we gathered to march down the streets, led by Native song and drums, stopping at an EQT headquarters and ending at the David L. Lawrence Convention Center, where the conference was being held. 
Outside the conference, about 200 people rallied. Speakers included the mayor of Pittsburgh and OVEC's Dustin White. We were later told that just before we arrived, Andrew Wheeler, the acting head of EPA had just finished telling Shale Insight conference attendees that the Trump administration will continue deregulating their industry. And we will continue to grow our coalition to combat their toxic plans. 
OVEC is honored and privileged to work with a number of amazing groups and individuals as we stand in opposition to this proposed petrochemical complex. We have more work to do—and we will always have some fun in doing it—and we look forward to meeting new friends and solidifying the relationships we already have. If you would like to get involved in our work against the Appalachian Petrochemical Hub, email us at dustin@ohvec.org or call 304-522-0246.
#PetroFreeWV #PetroFreePA #PetroFreeOH #PetroFreeKY #NoASH