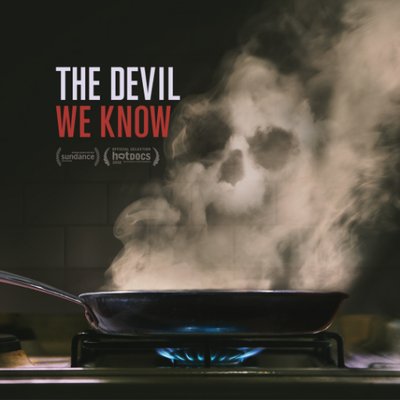 I recently watched the new documentary, "The Devil We Know." The documentary details the long history of the development and use of the compound perfluorooctanoic acid (C-8) originally used to make Teflon non-stick cookware and the patented Scotchgard water repellant for fabrics, carpeting, and clothing.
The compound contains fifteen fluorine atoms bonded to an eight carbon chain. Fluorine is found in the same family as chlorine on the Periodic Table. Like chlorine, fluorine is very toxic. Fluorine is the most electronegative of all elements and therefore when it bonds with another atom, the bond is nearly unbreakable.
C-8 belongs to a group of compounds called polyfluoroalkyl substances (PFAS). They are persistent in the environment and resist degradation, which allows them to bio-accumulate in the body.
The entire population of the planet, without our consent, has been exposed to fluorine containing compounds such as C-8. This compound is so pervasive globally that only archived blood samples taken from soldiers prior to the 1940s is C-8 free. Because of its widespread use, it can be found in dolphins off the coast of Florida and polar bears in the Arctic Circle. The CDC reported C-8 is in the bloodstream of every American and 99 percent of the world's population.
Avian veterinarians have known for years that non-stick Teflon cookware can produce fumes that are toxic to birds. The condition is often referred to as "fume fever or Teflon flu" and can very quickly kill birds, including pet canaries and parakeets. Toxic fumes are emitted even at temperatures that mimic ordinary cooking conditions. Bird deaths have been experienced with Teflon coated ovens, pans, electric skillets, and stovetop burners. The Environmental Working Group referenced a study where over one thousand broiler chicks died after being exposed to gases from Teflon coated heat lamps.
Internal documents revealed that DuPont's scientists had suspected for decades that C-8 was harmful, yet the company continued to make the compound, putting its workers as well as the public at risk. A former DuPont employee interviewed for the documentary, Ken Wamsley, had cancer which he believed to be caused by chemicals he was exposed to. During his forty years working in the company lab, he recalls seeing the chemical everywhere, "bubbling out of flasks he used to transport it, wafting into a smelly vapor when he heated it, and dusting the laboratory with a white powder as it floated in the hazy lab air."
The first time I heard of the compound's toxicity was during a 2003 ABC news segment about a DuPont plant located in Parkersburg, WV. What caught my attention was a photograph of a child with severe birth defects. He had multiple facial deformities, including an eye that was located much lower on his face than normal and only one nostril.
The child's mother had worked on the C-8 line during her pregnancy. Her job was to redirect the compound to a pond behind the building if it ever overflowed the pumping apparatus. She wore no breathing equipment or safety clothing in the small windowless room.    
The C-8 chemical was developed by DuPont in the 1940s, and helped make the company the chemical giant it is today. According to an article in the magazine Intercept, in 2014, the company made 95 million dollars a day, much of it from Teflon. C-8, the main chemical used for Teflon, reduces surface tension of water and is used in many items in addition to cookware. It can be found in Gore-Tex and other waterproof clothing, coatings for eye glasses, fire fighting foam, fast food wrappers, microwave popcorn bags, bicycle lubricants, personal care products, ski wax, communication cables, kids' pajamas, and pizza boxes.
Teflon, trademarked in 1945, was also added to other chemical products used in our homes. There was toilet bowl cleaner with Teflon, Dockers Stain Defender with Teflon, Blue Dolphin Sleep and Play layette sets treated with Teflon, and carpets and upholstery sprayed with the Stainmaster Teflon Repel System. Other items coated with the slippery substance include mascara and dental floss. The Environmental Working Group has an excellent and extensive amount of data about cosmetics and Teflon on one of its web pages.
An article in Mother Jones magazine points out that a science panel commissioned by the US EPA reported that C-8 is a "likely human carcinogen." It has been associated with decreased birth weight and head circumference in infants exposed as fetuses.
In 2015, DuPont handed over its production of many chemicals to a spin off company called Chemours. In 2017, this company and DuPont were able to settle, "without admitting fault or liability", a class action law suit involving C-8. The suit was filed in 2001 by residents in the Ohio Valley exposed to C-8 via their water supply.
In 2004, the company agreed to fund a medical monitoring program and initiated testing of local residents in and around Parketsburg, WV and Vienna, WV. The resulting health study included more than 70,000 people and took seven years to complete. It is the largest of its kind in history. Results found links between C-8 and kidney and testicular cancer, colitis, thyroid problems, preeclampsia, and high cholesterol levels.
DuPont phased out production of C-8 in 2015, but unfortunately the replacement they developed, GenX, has been shown to be not much safer. A Dutch government report, conducted in response to concerns about a Netherlands Teflon plant, stated "GenX is a suspected human carcinogen."
Citizens have become human guinea pigs for corporations. The 2018 Fortune magazine article, Teflon's River of Fear, concluded "industrial chemicals are generally considered safe until proven hazardous." DuPont's own in-house laboratory testing, mandated by the USEPA, showed exposed rats developed tumors in the liver, pancreas, and testicles, but results were downplayed by DuPont as "not considered relevant for human risk assessment."
The safe amount of C-8 recommended by the EPA for drinking water is 70 parts per trillion, and for GenX, 140 parts per trillion. In comparison, the safe level for arsenic is 10,000 parts per trillion. A part per trillion is approximately one drop of contaminant in 50 Olympic size swimming pools.
While the voluntary phase-out of C-8 started in 2015, it still shows up in fast food wrappers. According to the Environmental Working Group, the C-8 may be resurfacing from recycled paper or unintentional contamination. Their 2014 and 2015 testing of wrappers from most major fast food restaurants revealed substantial amounts of fluorinated compounds.
Recently,  I attended the Technical Committee Meeting of the Ohio River Valley Sanitation Commission (ORSANCO) in Covington, Kentucky. I was especially interested in their plan for "characterizing Ohio River ambient polyfluoroalkyl substances (PFAS) conditions," which included "characterization of present concentrations of PFAS compounds from samples taken from twenty different sites along the river's 981 mile length."
These samples are to be taken in the summer and fall of 2019 during both a low and high level flow event. They will be analyzed by the USEPA research lab in Cincinnati. Results will hopefully be released to the public.
In the meantime, the Trump Administration's EPA released its PFAS management plan on Valentine's Day. The plan doesn't show much love for the estimated 110 million Americans drinking contaminated water.
The plan fails to stop the introduction of new PFAS chemicals, fails to end the use of PFAS chemicals in everyday products, fails to alert Americans to the dangers, and also fails to help clean up contaminated sites by adding them to Superfund lists. While some states are moving ahead with their own bans, the nation as a whole remains exposed to dangerous compounds that will literally follow us to our graves.