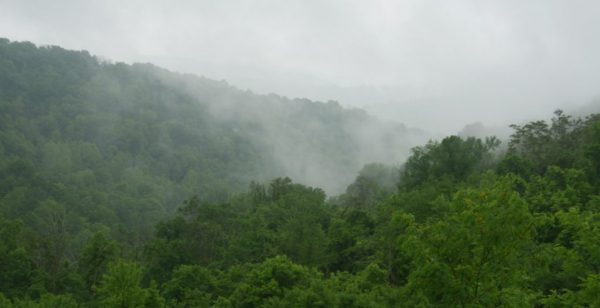 I grew up in Toronto, Ohio a little community located along the Ohio River. Even though we lived in a wooded area just outside the city limits we were still subject to some of the air pollution created by industries such as Titanium Metals and the Weirton Steel coke plant on Brown's Island. These were both less than a mile from our home. It seemed that we had very few clear sunny days.
As the years went by and the steel mills were shut down due to foreign competition, our river valley started to become cleaner. There were less hazy days and more sunny ones. You could see across the river valley to the West Virginia border. Sadly, those days could be coming to an end—unless we say "no!"— as the petrochemical industry is taking a hard look at the Ohio River Valley as the new location for a major project.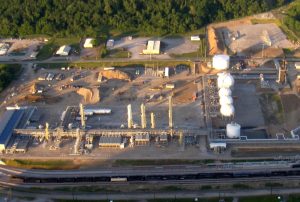 The Ohio Valley has caught their interest. After all, it sits atop major sources of petrochemical feedstocks (Marcellus, Utica, and Rogersville) shale gas deposits. There is an ample water supply (Ohio River) necessary for making plastics and other petrochemical products. There are potential salt caverns along the Ohio River that could serve as a storage hub for the gas and liquids extracted through fracking. There are also politicians who are more than willing to ignore the known health effects and environmental destruction that these industries will bring to the region.
A fracked gas and petroleum liquids storage hub is in the planning stages and would be built near Monroe County, OH. There are also proposals for the construction of up to six huge ethane cracker facilities, as well as some methane cracker plants, with one located near Institute, WV. A cracker plant manufactures the building blocks or precursors of plastics by either breaking large organic compounds or removing hydrogen from small molecules to create double bonds and hydrogen gas.
For many years, Louisiana has been the "host" of the majority of the USA's petrochemical industry. However, the threat of major storms, flooding, and other weather-related events have caused concerns for the continued buildup of the facilities in that region. This has the industry's CEOs and stockholders looking for a more "weather stable" environment.
So what exactly is salt dome storage and how can it be used to store ethane gas and other petroleum liquids? A salt dome is basically a large salt deposit that can be as deep as five miles below the surface. Companies create storage caverns within these deposits. The caverns are approximately 150-300 feet in diameter and are up to 1,200 feet tall.
They are constructed by first drilling a well deep into the salt deposit. They then inject fresh water which will dissolve the salt, creating very concentrated brine. When the brine is withdrawn from the dome a cavern remains. It is this cavern which could be used to store hydrocarbon liquids and gases. The organic compounds, being water insoluble, will not dissolve the remaining salt in the cavern.
Industry likes this method of storage because it: protects against supply interruptions, allows them to buy and then store gas when prices are low, and keeps raw materials close to plastic and chemical production sites.
One of the potential problems with salt cavern storage is that a minimum gas or liquid pressure must be maintained to keep the above ground strata from collapsing into the cavern. One such collapse occurred in the Assumption Parish of Louisiana when an Occidental Petroleum cavern became an enormous 35-acre sinkhole called the Corne Bayou Sinkhole.
One such collapse occurred in the Assumption Parish of Louisiana when an Occidental Petroleum cavern became an enormous 35-acre sinkhole called the Bayou Corne Sinkhole.
Methane leaks are also an issue. The Aliso Canyon Natural Gas Storage Facility in California experienced a massive leak from October 2015 until February 2016. A report by researchers at the University of Southern California said the largest greenhouse gas leak in American history was caused by "dysfunctional management and poor regulatory oversight."
The industry is pretty much self-regulating and according to the study, this leak could have been stopped in four days instead of four months if shut-off valves had been installed.
The proposed Appalachian Storage Hub would collect natural gas and related liquids from counties along the Ohio River in the states of Ohio, West Virginia, Kentucky, and Pennsylvania. It would do this via a six-pack of pipelines running 386 miles along the banks of the Ohio River from Monaca, PA, to Catlettsburg, KY.
Air pollution and water pollution remain the most important issues when it comes to health effects in the tri-state region. Ask the residents of the town of LaPlace, Louisiana located in what is called "Cancer Alley".  his industrial corridor stretches between Baton Rouge and New Orleans and hosts more than 100 petrochemical industries. Residents suffer from contaminated air and water from their petrochemical neighbors. They can share stories of their increased neurological disorders, cancer deaths, and childhood asthma incidents.
If this project comes to fruition, the enormous amounts of fugitive methane emissions that are associated with these facilities and pipelines will only add to atmospheric methane, a major climate changing gas.
Additionally, the Ohio Valley topography is unlike Louisiana's flat landscape. The valleys are prime regions for air inversions which cause air pollution to build up under a cold air layer trapped under warmer air. The 1948 historic air inversion in Donora, PA that killed twenty people and sickened 7,000 is a reminder of what might happen to the valley residents.
Water pollution is also a major concern, considering the Ohio River is the drinking water source for three to five million people. It has been named the most polluted river in the USA for the past seven years. In 2014, more than 24 million pounds of industrial wastes and chemicals were dumped into the Ohio River. That's twice as much as the Mississippi River. If this storage hub and the additional industries associated with it come on-line, the Ohio River will receive even more industrial pollution.
You might be saying to yourself, wow this sounds disturbing, but how will it affect me if I don't live on the river? Well, if this project goes on-line as the oil and gas industry hopes it would, we could see unprecedented levels of fracking in all regions of the tri-tate area. There would also be over three thousand new pipelines to transport the raw materials to and from the industrial sites.
Currently, a new pipeline, the Falcon Pipeline, is being proposed for construction through Harrison and Jefferson counties. It will cross into Scioto and Cadiz as well. This pipeline is specifically being built to carry ethane from Harrison and Jefferson Counties to the Monaca cracker plant, which will manufacture 1.6 million tons of plastics a year.
Petrochemicals, pipelines, and plastics are not a plus for the Ohio Valley. We are threatening the future of generations to come if we buy into this promise of short-term economic gains instead of realizing the disastrous long-term effects that will occur. 
Get involved. Learn more. Write letters-to-the-editor of your local and statewide newspapers. Contact state and national politicians to let them know you demand a more sustainable future for our region. Join local citizen groups. Join OVEC. Need help taking action? E-mail info@ohvec.org.
Sign-On to Show Your Opposition to the Appalachian Petrochemical Complex