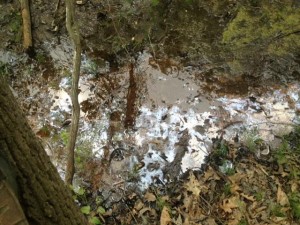 This blog is adapted from an e-mail sent out by members of POWHR, a coalition of groups working to oppose the onslaught of pipelines proposed for West Virginia and Virginia. POWHR – Protecting Our Water, Heritage, Rights
EQT has brought a lawsuit against Fayette, the first county in West Virginia to pass an ordinance to ban the storage, use or disposal of any oil and gas waste within the county.
The ordinance essentially bans fracking in the county.
The ordinance  passed on Tuesday, January 12. EQT filed their lawsuit on January 13; they claim that the state Oil and Gas Act and the Fifth Amendment property rights are being violated by the ban.
Imagine that… their cry of "foul" when it comes to property rights!
Two POWHR members have been profoundly involved in getting this ordinance passed, even as they've been waging battle against EQT alongside the rest of us.
The Fayette County Commission has set an extraordinary precedent in this state and they need all the support we can give to them.  It takes a village…
The broad coalition that we've been striving to create across WV and Va. is a reality. We've been working together throughout the two states and within WV and VA in unprecedented numbers because we believe in the preservation of our water, heritage and rights!
We need you to take action!
1) We need to have letters-to-the-editor written to the Register-Herald, in particular. Fayette County is in their readership area. Contact the paper via e-mail at readersspeak@register-herald.com or via snail mail:
The Register-Herald
PO Box 2398
Beckley, WV. 25802
Your letters should be no more than 300-350 words. You are limited to one letter in a 30-day period. Letters must be signed, and include your street address, as well as a daytime and evening phone number (for verification only).
2)  Our WV state legislators must hear the roar that is growing throughout the citizenry:
"We citizens will not stand aside and allow the oil and gas companies and the legislators who support them strip away our rights for their own gains."
Find phone numbers for legislators here.
3)  Support candidates who will work in the best interests of the people, not the best interest of corporations.
4) Attend a Non-Violent  Direct Action Planning Meeting, January 23 in White Sulfur Springs. (E-mail info@ohvec.org and we can pass along details.)