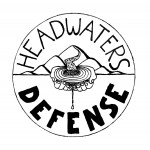 A most-excellent call-to-action from Headwaters Defense:
On Tuesday, January 12, Fayette County will become the first county in West Virginia to enact a ban on oil and gas waste disposal. This is the culmination of many months of hard work by members of Headwaters Defense and citizens of Fayette County. Collectively, we have obtained 5,000 petition signatures, pressured the County Commission into action, and worked alongside the County Prosecutor to draft a strong, enforceable ordinance against frack waste disposal.
At 9 a.m. next Tuesday, January 12th the Fayette County Commission will have the Second Reading and passage of the "ORDINANCE BANNING THE STORAGE, DISPOSAL, OR USE OF OIL AND NATURAL GAS WASTE IN FAYETTE COUNTY, WEST VIRGINIA." Headwaters Defense will deliver a petition of 5,000 hand-written signatures in support of passage of this ordinance. After the Commission meeting, members of Headwaters Defense will host a press conference where local leaders will talk about the health impacts of living near fracking waste injection wells, and the importance of local enforcement.
At 7 that evening, Headwaters Defense will host a rally at Brethren Fellowship Center (125 Central Ave, Oak Hill WV). There will be speakers, music, food, and a great opportunity to have conversations about moving forward. We will discuss the provisions of the ordinance that grant each citizen the power to enforce our law in both civil and criminal court. Our primary goal right now is to shut down the frack waste injection wells operated by Danny Webb Construction in Lochgelly, WV. The people wrote this law, we organized for its passage, and we will enforce it!
We would love to have support from other individuals and organizations from across the state. Can you join us on Tuesday, January 12 at the County Commission meeting or at our rally that night? We believe that local laws can help protect our water and rights against the fracking industry and we'd love to share this strategy with other people from across the state.
—-
If you haven't seen it yet, now would be a good time to watch Frack Waste Injection and Concerned Residents, a short film by Keely Kernan. The film is part of a series about resource extraction throughout West Virginia called "In the Hills and Hollows" and is sponsored by the Civil Society Institute and OVEC.