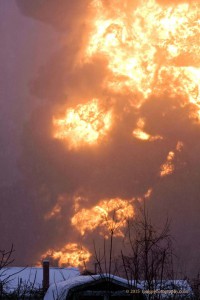 As a former OVEC staff member who recently moved to New York from West Virginia, one thing that I sadly didn't expect to see as much of here is natural gas. The so-called natural gas boom (a boom for whom? a literal boom?) is everywhere and the proposed infrastructure keeps coming.
The AIM pipeline (Algonquin Incremental Market Project), which is planned to skirt the Indian Point nuclear power plant here in New York, is one particularly bad and dangerous idea. Running a potentially explosive gas pipeline next to a nuclear power plant should never happen, especially 30 miles north of a large population center of 20 million people like Manhattan.
How many more dangerous and irresponsible rubber stamps of the industry-controlled Federal Energy Regulatory Commission (FERC) can we allow? (Do something about FERC! Join the action from May 21 – 29: Mass Action: Beyond Extreme Energy) Update: FERC Changes Date of Meeting to TRY to Avoid Protestors

Currently in West Virginia, there are issues with gas leaks and water contamination in Marshall County: a pipeline at Little Grave Creek broke spilling Marcellus Shale condensate into the water, More than two weeks after the spill, the condensate was still being found in the creek.
Not to mention all the other concerns and problems elsewhere; check OVEC's daily news links under the oil derrick icon for the ongoing news of dangerous incidents.
West Virginia's Doddridge, Wetzel, Ritchie and other counties are fracked to pieces at the expense of the health and future of local communities. And just where exactly is all of this gas going to?
Dominion Resources sure wants to get this gas out of West Virginia in a hurry, going right through and wrecking part of a National Forest in Pocahontas County in the process. The Atlantic Coast Pipeline called is being touted as a way to boost the local economy. We will see how this plays out, but the fossil fuel industry has a bad track record in this regard.
This brings us not only to the gas pipeline issues, but the point of such proposed projects as the Port Ambrose Terminal in Long Island, New York. Port Ambrose, according to the SANE Energy Project, is a proposed liquefied natural gas (LNG) import port. To be located on the same spot cited as a potential wind farm, this LNG plant is not what it seems and the choice could not be much clearer. The U.S. is currently not importing natural gas, but instead we are planning to export it to Europe to undercut the Russian's natural gas market there. So much for "energy independence"!
Is this what we really need, with the risks to marine life, explosion risks, tourism risks, and no real economic benefit through jobs? Just for a game of political chess? This is not wise infrastructure development, nor does it make sense in terms of building a sustainable future.
What the government and industry have been and are doing with our tax money is ridiculous. After 20 years of R&D subsidies for fracking instead of renewables, where has this gotten us? Where is the job boom for fracked up West Virginia? Beyond health and environmental impacts, what has gas fracking done to improve the economy in the many states in stretches over? According an article from last year by the West Virginia Center on Budget and Policy, the job data has been "flimsy as gas" itself.
So, how can New York realistically want taxpayers to choose a project like Port Ambrose instead of offshore wind? How can our communities be forced to live with a polluting facility like that for the next twenty-plus years? There are better things that we taxpayers should be subsidizing with our money.
With this onslaught of dirty gas pipelines schemes like Pilgrim and Constitution in the works, how long do you think New York can keep its fracking ban in place? Not long is my guess, and that is why it needs to be stopped by citizens like you, and folks all over the U.S.
So, while the public wealth and potential revenue for West Virginia flows out of state, so do the public health and environmental concerns of this fossil fuel.
The tentacles of the gas industry reach across America and the globe, so we must all stand together and work together (here's one example of such work together) from different areas affected by the gas industry, and show solidarity to stop this harmful industry and work towards a real renewable future that is more beneficial to us all. We all live downstream.
To this end, if you are not already a member, join OVEC to help stop the gas fracking and pipeline infrastructure from destroying the health and landscape of West Virginia. And if you are already a member, please donate to help support their great work.