During these trying times of turbulent turmoil with all the alternate facts and flexible versions of reality decreed in the new political realm, we can sometimes become unhinged. We then seek some dependable experiences to ground us, and provide a modicum of stability. We yearn for consistency and predictability.
Well, guess what?! I think that I might have found something that is predictable, but it might not be comfortable and reassuring. In fact (that means a real fact—not fake fact), silica is still dangerous, especially to workers carrying out the fracturing process on deep shale gas well pads.  
Silica, More Silica
My shale gas photograph collection starts around 2009, but my first photograph of silica dispersion from a fracturing well pad was not until February 2011. We had  so many truck accidents, and traffic jams, and road blockages early on that it was hard to even get to the well pads.
Our first horizontal shale gas well pads here in Wetzel County were in production in late 2007. Ten years ago now. So silica would have been freely dispersed at every Chesapeake well pad fracked from 2008 to 2010. I just did not witness it (or inhale it). And my camera has gotten so self-centered and egotistical, that it now thinks that if it did not see it then it did not happen. It is stubborn that way. Its only reality is what it has personally seen. And, even then, it gets skeptical.
My most recent observation of silica being released to the community atmosphere was last week, January of 2017. Silica releases seem to be regular, dependable, and still harmful. Shall we review one from each year ?
2011  This one, below, is a Chesapeake well pad on Blake Ridge in the center of Wetzel County. There were a few workers within that killer of a silica cloud. This type of employer negligence is not seen very often now. Back then we never saw even dust masks on the guys. More recently, it is very common to see canister respirators on the guys on top of the sand kings. (Those living near the well pads and my camera are not so lucky to have dust masks.)
2012  This silica cloud, below, is on the notorious Dewhurst well pad in Lewis Wetzel Wildlife Management Area in Wetzel. I must have a thousand pictures of this well pad. If it could be done wrong, it probably was here. By the way, a public road goes right through the middle of the well pad. The state of West Virginia sort of looked the other way, it seems, in those times.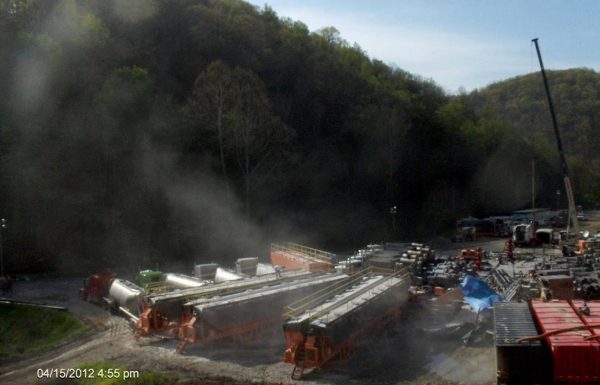 2013  The crane, below, is holding the perforating gun used to explode holes in the well casing. In the background are the silica sand vertical storage units called sand castles. To the far left, with the hand rails, are four conventional sand kings. The cloud is our dependable silica dust. A residence to the left is no more than 100 feet away from the edge of the well pad. There is a long story about that short distance (but that's another blog).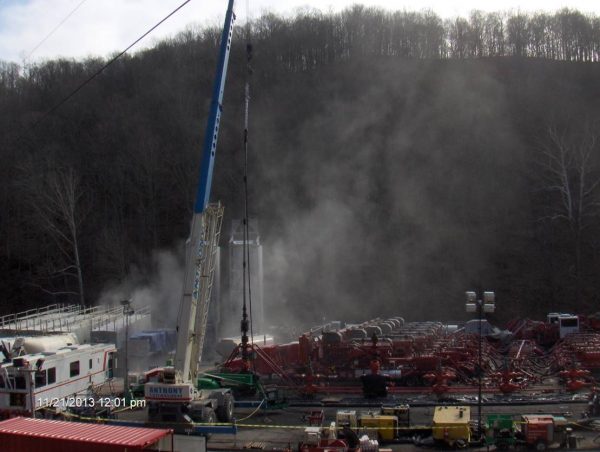 2014  The silica seen below is on a well pad in eastern Wetzel County, near the area called Mobley. I need a zoom lens for some of my photographs, however, in this 2014 picture, I am standing next to the tree which I am using to shield the camera from the direct sun glare. The tree is maybe 30 feet from the berm of the well pad. The property owner's home here is less than 200 feet from the corner of the well pad. There is another long story about that short distance.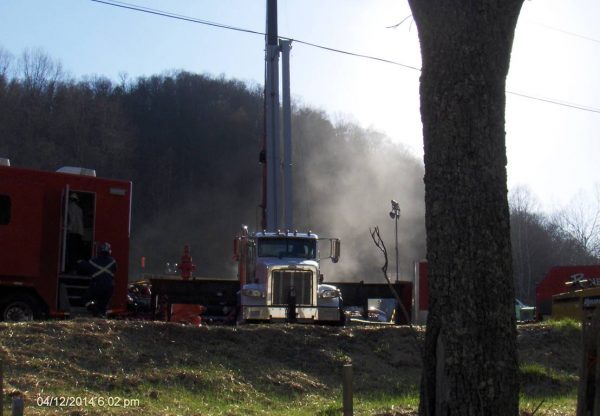 2015  This Wetzel County well pad, below, must be beginning to feel like an unwanted orphaned child. It was originally a Grenadier Energy Partners well pad. It started with a bad design—a poor location, a long access road, and a small well pad area. But other than that, good access for me, since it is on a public roadway. Then the gas guys from Norway, Statoil, bought the well pad. They were the operators during this silica cloud release. Now, this location has been sold to EQT.  They bought out all of Statoil's footprint here. No matter who owns the pad, the silica's the same—not good for you.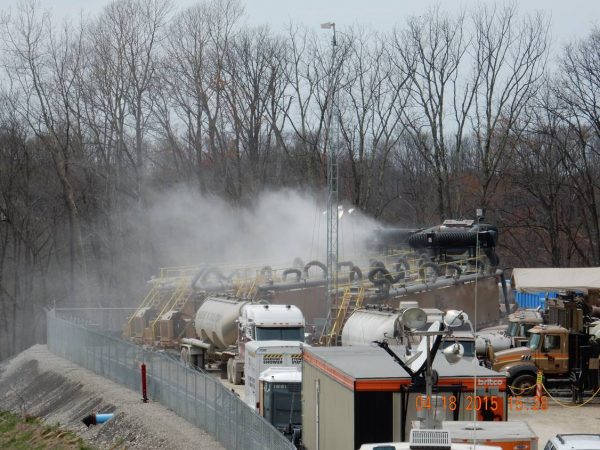 2016  Our 2016 silica photo contest winner is shown below. The FTS stands for Frac Tech Services. They have been around here for a while. There are many interesting stories about them also (so many blogs topics, so little time). Less than stellar reputation. The yellow box-cars shown below are called sand kings. They receive and store the silica after it is blown into them from the sand cans trucks, which deliver the sand to the site.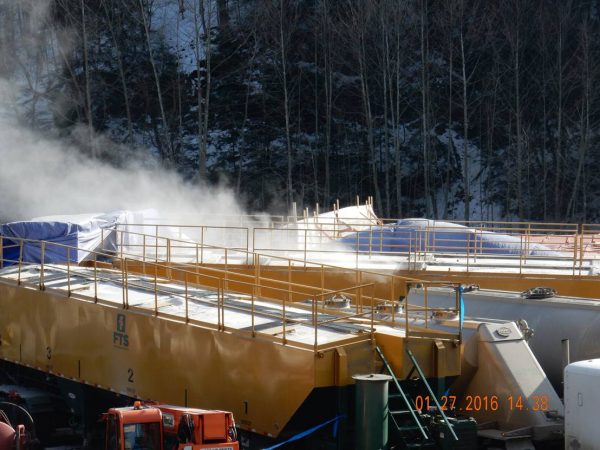 2017  My selection of silica pictures for this year is very limited. Look at the calendar. The year is young. Lots of time for lots of silica to come yet. The silica fog below is near the Halliburton mixer-blender trucks.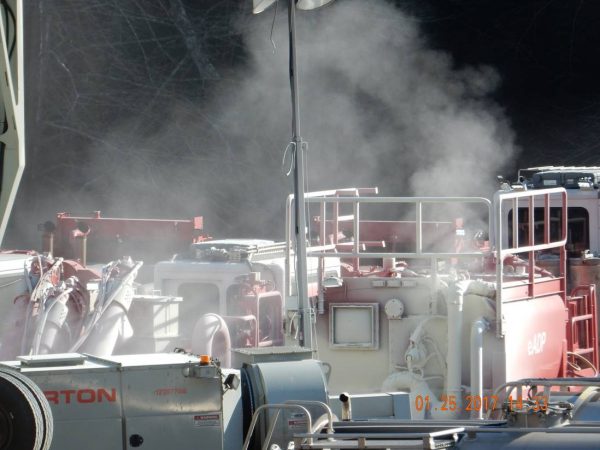 2018  Save this space. We will need it.