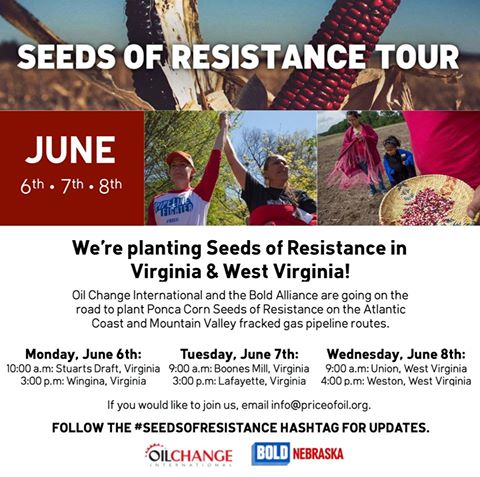 On June 8, come to the Seeds of Resistance Corn Planting Ceremony in Weston, WV. Help plant seeds of resistance in the paths of the proposed Atlantic Coast and Mountain Valley fracked gas pipelines. As of June 2, OVEC has space for 2-3 more people in a vehicle coming (and returning same day) on June 8 from Huntington, to Charleston and up 79 North. If you'd like to meet this vehicle for a ride to the ceremony, e-mail info@ohvec.org right away.
For details on locations of the other ceremonies, see: Farmers Join Cowboy & Indian Alliance to Plant "Seeds of Resistance" along path of Atlantic Coast & Mountain Valley Pipelines
Tom Berlin is hosting the ceremony of his land, and you are welcome to come to the event on your own if you, too, would like to resist these pipeline. Tom says:
Among other things, I think this is a demonstration of our shared love and commitment to the land, nature, to each other. It recognizes that we are part of nature and part of each other, that what impacts one impacts all. I think it is a consciousness raising event, as well as a statement of our concern for and opposition of an economy that is based on constant taking from the land and each other without giving back.
Tom's address is 1833 Left Millstone Rd., Weston, WV, 26452. Tom says," Garmin seems to be able to find us okay. It is state Rt 10/11. We are at the head of Left Millstone Run and Elk Lick Run. We are about two miles from hard road. Regular vehicles have no problem getting here."
The Atlantic Coast and Mountain Valley fracked gas pipelines Seeds of Resistance tour takes place from June 6-9 on land in Virginia and West Virginia that lies in the paths of these proposed pipelines. Ponca Nation member and Bold Oklahoma coordinator Mekasi Horinek Camp, Nebraska farmer Art Tanderup, and Bold Nebraska's Jane Kleeb will lead the ceremony to plant "Seeds of Resistance". 
The first "Seeds of Resistance" were planted in 2014 by the Cowboy & Indian Alliance, when sacred Ponca corn was returned to the tribe's ancestral homeland in Nebraska for the first time in 137 years — since the tribe was forcibly removed from Nebraska.
The 3.5 acres of sacred Ponca corn planted in Neligh—on land that lies both in the path of Keystone XL, and on the historic Ponca Trail of Tears— as certified by the USDA, and with the land now protected from Keystone XL Pipeline, the ongoing corn harvests continue to help propagate more Seeds of Resistance.
Since their first planting in Nebraska as a strategy of blocking the Keystone XL Pipeline and building a Cowboy and Indian Alliance, Seeds of Resistance have since spread across the world—to Ecuador, Minnesota, Wisconsin and other communities standing up to Big Corporations.
You can donate to help the VA/WV tour here. To catch that ride with OVEC, e-mail info@ohvec.org right away. Or, organize your own carpool. Resist!