WV Rivers Coalition alerts us: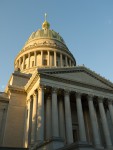 SB 423 / HB 2574, Amending the Aboveground Storage Tank Act: This bill severely guts the Act that was passed last year. Click here for WV River Coalition's SB 423 / HB 2574 Fact Sheet. We, along with many allied lobbyists and citizens, have been talking to as many legislators as possible about our concerns. The Senate Judiciary Committee is expected to take up the bill early next week and needs to hear from you. Tell them to preserve protections for our water passed last year and reject SB 423.
If you need some inspiration to draft your own note to send the committee, here's a sample letter (e-mail addresses for the committee below):
Please don't vote to weaken SB 373, passed last year after the West Virginia water crisis. Vote NO on HB 2574.   HB2574 ignores DEP's risk -based rule.  The bill takes no notice of DEP's Proposed Aboveground Storage Tank Rule, which was developed with extensive public input from industry and citizens as required by SB 373.  The rule divides tanks into three levels and requires more stringent protections for tanks that present the highest risks.  It exempts almost all tanks from regulation.  Fewer than 2% of the nearly 50,000 registered tanks now would still be covered under the AST Act.  Exemptions include, among others, all tanks used by the oil and gas industry.
It limits DEP's ability to collect fees to properly administer the program.  It weakens inspection requirements.  DEP would no longer be required to conduct annual inspections of tanks in Zones of Critical Concern, and owners/operators would only need to "evaluate" their tanks once, unless new rules are promulgated requiring future "evaluations."  Unqualified people could conduct these "evaluations."
It removes protections for drinking water systems that draw water from groundwater.  It undermines the ability of water utilities to write effective source water protections plans.  The bill restricts the sharing of critical information with water utilities.  It hides key information from the public.  The bill restricts the sharing of information with the general public and provides draconian penalties for the release of such information.  Further, it removes the requirement to notify the public of chemical spills, releases, and related emergencies.
It significantly weakens planning for spill response and prevention.  Spill Prevention and Response Plans will no longer be required for many sites.  Existing plans at these sites, while somewhat similar to SPRPs, do not need to be submitted to DEP and would not be available to the public and finally, it strips the important provisions that hold AST owners and operators accountable.  AST permits are no longer required, unless DEP institutes a new rulemaking process.  Fees no longer need to be paid in order for a tank to be used.  Penalties are weakened.
The ability of DEP to revoke AST registrations is weakened.  Individual NPDES permits are no longer required for facilities with ASTs in Zones of Critical concerns, and DEP no longer has the ability to require individual NPDES (National Pollution Discharge and Elimination System) permits for other facilities in Zones of Critical Concern.  Important tank-related provisions no longer become enforceable conditions in NPDES permits
Furthermore, please support keeping Category A protections for all streams in West Virginia.  We never know when or where the next toxic spill will occur which may require using a secondary water intake system. Please support the designation of portions of the Kanawha River as a Category A waterbody; 300,000 people should not have to rely on a single water intake to fulfill their water needs.  House Bill 2289 is the bill that would do just that.
If we learned nothing else from the water crisis, surely we learned how inextricably linked potable water is to economic develop.  Please help protect the health and safety of our citizens by supporting strong measures to protect water from harmful pollution.  Clean, safe water is becoming has become an issue across our nation.  Help West Virginia protect this precious, vital and life-giving resource.
To send an e-mail to all the Senate Judiciary Committee members, copy the list below and paste it into your email 'To' field:
charles.trump@wvsenate.gov, david.nohe@wvsenate.gov, bob.beach@wvsenate.gov,art.kirkendoll@wvsenate.gov, ronald.miller@wvsenate.gov, corey.palumbo@wvsenate.gov,mike.romano@wvsenate.gov, herb.snyder@wvsenate.gov, bob.williams@wvsenate.gov,mike.woelfel@wvsenate.gov, Mitch.Carmichael@wvsenate.gov, ryan.ferns@wvsenate.gov,ed.gaunch@wvsenate.gov, robert.karnes@wvsenate.gov, Kent.Leonhardt@wvsenate.gov,Mark.Maynard@wvsenate.gov, jeff.mullins@wvsenate.gov