After Chuck Nelson found an OVEC newspaper on his windshield that provided information about the abuses of mountaintop removal strip mining (MTR) for coal, he called OVEC's office to volunteer. From that day forward, Chuck was all-in for ending mountaintop removal. Chuck, a retired underground miner, was an expert not only on underground mining, but in short order, became an expert on the negative impacts of MTR on communities and people.
Numerous OVEC newsletters mention Chuck's very active involvement with the work. He knew first-hand that organized people were the key to change. including where he was living in Sylvester, WV.
He had already fought against a giant coal pile looming over his community (before he was involved with OVEC). He and his wife, Linda Vernatter Nelson, along with the loveable "Dustbusters," Pauline Canterberry and Mary Miller, and others living there, were inundated with coal dust in their homes. Chuck and Linda made a tough choice to leave their Sylvester home that Chuck and his father built and move to Glen Daniel for the sake of Linda's health.
Chuck joined OVEC's board of directors in late 2008 and worked closely with the OVEC and Coal River Mountain Watch's Sludge Safety project. Chuck was a familiar face at Sludge Safety meetings in Boone and Mingo counties, encouraging others to get active to pressure state regulators and politicians to provide clean, potable water. He wanted two things: justice for these communities and access to safe water. Chuck not only attended community meetings, but also, he lobbied with others in Charleston and in Washington, D.C., on a host of coal-related issues. A self-starter, Chuck often took initiative to set up meetings with agencies on his own. He was a truth-teller and a credible, powerful voice of the people in Appalachia impacted for decades by mining abuse.
Chuck was arrested (along with others) in West Virginia for participating in a peaceful, sit-in protest of mountaintop removal in then, Governor Joe Manchin's office, at the State Capitol. At another action, he was cited for trespassing on Coal River Mountain trying to prevent another 150-acre mountaintop removal mine; he like others with him, believed in his heart that an intact Coal River Mountain with wind turbines would be a far better alternative, long-term plan for the mountains, the community and the people living nearby—one that they all could literally live with.
Chuck didn't seek the limelight, but he was often sought out by documentary filmmakers, journalists, writers and others to learn more about the slow-motion tragedy in southern West Virginia and central Appalachia. His knowledge, his passion and compassion for others was apparent. Chuck was a straight-talking fellow and just so incredibly likeable.
Beyond trying to end mountaintop removal in our region (he became active in The Alliance for Appalachia early in its development), Chuck was well-aware of big picture concerns, such as climate change, which is currently causing record-breaking, dangerous heat in the West and Northwest. Chuck was a proponent of renewable energy. I had the good fortune to attend a public meeting in Cape Cod on the contentious Cape Wind off-shore windmill farm, where he spoke at a public meeting. One of the primary concerns of people living on Cape Cod was that offshore windmills would spoil their viewshed.
When it was Chuck's turn at the mike, a slide with a barren, massive mountaintop removal mine flashed on the screen. Chuck asked the crowd, "What about my viewshed?" The following day, Chuck was interviewed by Don McGillis, an editorial writer at the Boston Globe. Mr. McGillis was enthralled with Chuck and the following day an editorial in the Boston Globe called for an end to mountaintop removal.
During our time at Cape Cod, Chuck said, "Look how clean and neat everything is outside here. Why can't it look like this back home?"
Why, indeed?
Beyond Chuck's work with OVEC, he worked diligently with others, especially Larry Gibson. He joined Larry's "Keepers of the Mountains" board along with his dear friend, Paula Swearingen. Larry could always count on Chuck for support and assistance. Beyond his efforts to help end mountaintop removal and other abuses of the coal industry, Chuck cared deeply for his family and often spoke about his kids and grandkids.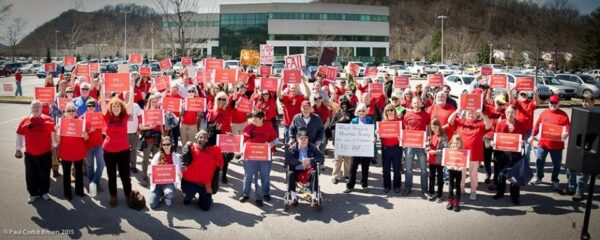 When his father's health began to fail, Chuck was there for him. He even brought his wheelchair bound father to "The People's Foot" protest (see photo above; Chuck and his dad are in front, center) so his dad could get a glimpse of the kind of activism that Chuck had so eagerly embraced. When his beloved Linda became severely ill, he then focused his attention to her, despite his own health issues. Needless to say, her death was a devastating blow to him.
Chuck's health had been failing for quite a number of years. When we talked on the phone, he would speak about up-coming doctor's appointments and in the next breath tell me about a group of folks he would be taking to show mountaintop removal. He was selfless and sacrificed so much of his time and energy for the sake of others and the betterment of West Virginia.
After Linda's death and when COVID-19 kept us apart, we still talked on the phone, laughing about how our cats were actually running our lives. Chuck dearly loved his cats. His last Facebook post expressed his frustration with someone who wasn't providing adequate veterinary care for a kitten. It was no surprise that he also confronted the owner about the kitten's need for veterinary care. That was so Chuck.
Truly, there aren't adequate words to express how much his life has meant to those who had the privilege to know and work with Chuck. His is a legacy of generosity, love and seeking justice for the land and the people of Appalachia. How fortunate I was to call him my friend. 
—
Photos here either by Janet Keating or courtesy Janet Keating.