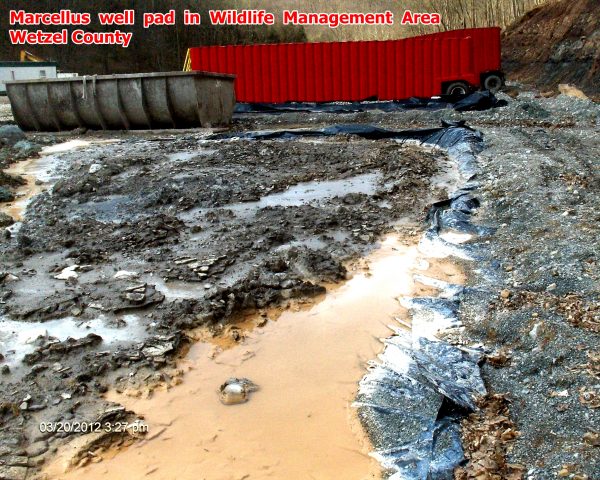 West Virginia's Senate President Carmichael has stated, "We have a moral imperative to provide low-cost energy, not only to West Virginia, but to the world." (State Journal, Feb. 13).
West Virginia's fracked gas may be low cost for "the world," but fracking activities force very high costs on those who live nearby. Hundreds of our neighbors in northern West Virginia have already sued fracking companies for serious problems, and some have to have replacement water trucked in to their homes after their wells apparently became contaminated. If they can afford it, they often drink only bottled water, because not everyone trusts the replacement water.
Oil and gas prices are rising, and the industry has figured out cheaper ways to get fracked gas. This is why the fracking re-boom is now underway in north central West Virginia, Pennsylvania, and Ohio.
The Huntington area could suffer very high costs to our air, water, and quality of life if the fracking and pipeline industries have their way.
A 36-inch, high pressure pipeline for fracked gas was approved by the Federal Energy Regulatory Commission on January 19. Columbia's Leach XPress pipeline would originate in Marshall County, WV, and would transport methane (the main component of natural gas) through regions of Ohio where fracking of the Utica shale is rapidly expanding.
It would then pass through Lawrence County, Ohio, and underneath the Ohio River near Camden Park, and link to another Columbia pipeline to go to a greatly expanded compressor station near the Huntington Tri-State airport. From there, the gas would go to Kentucky near Marathon Petroleum's Catlettsburg refinery and would link with the recently approved Rayne Xpress pipeline to carry fracked gas to the Gulf Coast.
There are now nine large-diameter pipelines proposed to go under or near the Ohio River in the Huntington area.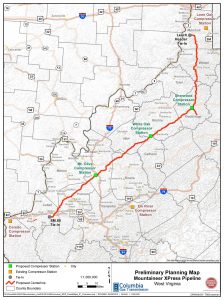 Columbia's Mountaineer XPress pipeline is moving through the Federal Energy Regulatory Commission's approval process. Plans for the Buckeye Xpress pipeline were announced last month. The Leach XPress, the Mountaineer Xpress, and the Buckeye Xpress would carry fracked methane gas from West Virginia, Pennsylvania, and Ohio to a pipeline interconnection site near the Marathon's Catlettsburg refinery. It looks like this gas is mostly intended for export from Gulf Coast ports.
Unlike the Dakota Access Pipeline and the Keystone XL Pipeline, which are largely completed already, the fracked-gas pipelines proposed for the Huntington area are not yet in construction, and some are still in the planning phases.
The Appalachian Storage Hub, still in the planning process, would include six more big pipelines carrying natural gas liquids through our Huntington area to Catlettsburg, KY, possibly in above-ground pipes. Highly pressurized natural gas liquids are even more explosive than dry natural gas (methane).
West Virginia's "moral imperative" to supply low cost fossil fuels to the world could also include extremely deep fracking of the Rogersville Shale, which lies under eastern Kentucky and southwest West Virginia. The Appalachian Storage Hub plans include piping natural gas liquids from Rogersville Shale wells. Currently permitted Rogersville oil and gas wells in Putnam County and eastern Kentucky are permitted at 14,000 and 15,000 feet deep—drilling almost three miles into the earth.
Back in the 1970s, Exxon drilled a test well into the very deep Rogersville Shale near Pritchard in Wayne County. More recently, the Kentucky Geological Service analyzed core samples from this well, and in 2014 issued a report concluding that a "viable petroleum system exists in the Rogersville." The core samples also contained natural gas (methane), and natural gas liquids.
Marathon Petroleum's CEO has stated that the Rogersville Shale "happens to sit right underneath the Catlettsburg refinery." Marathon Petroleum and MarkWest, a fracking services company, have budgeted $1 billion to build infrastructure to develop the Rogersville Shale and to "capture export possibilities." We don't know when they plan to begin this work.
Fracking-related processes and pipeline activities release massive amounts of methane and other greenhouse gases. If these plans for our area move forward, they would lock in more fossil fuels for decades, and move the world closer to extreme climate change.
We believe that we have a moral imperative to resist! Big investments in the already growing renewable energy sector are desperately needed. Investors in solar and wind energy are seeing some higher profits on their investments than those investors still bankrolling fossil fuels.
In northern West Virginia's fracking areas, many landowners are regretting signing contracts with oil and gas and pipeline companies. They wish they'd joined with their neighbors to stand up for their health, property rights, and way of life.
If oil and gas land men ask you to sign a contract, it is important for your own well-being that you ask a trusted lawyer to examine any contract before you sign. We are able to recommend knowledgeable and trustworthy lawyers. Contact us at info@ohvec.org, or call 304-522-0246.