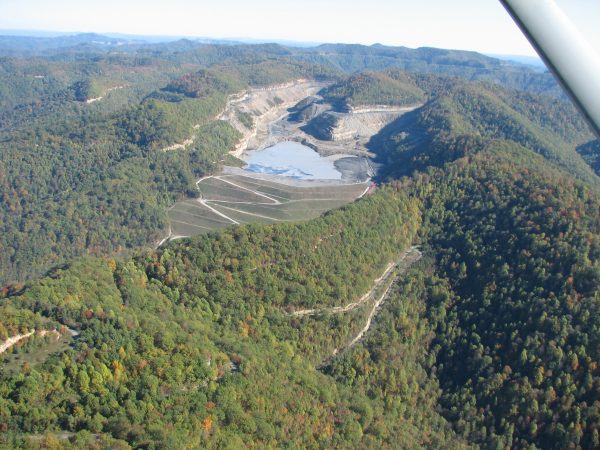 The news about the Oroville dam in California is really scary. Compounding the worry is the fact that climate change is causing more intense and frequent storms.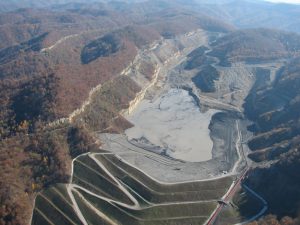 News reports say the Oroville dam is the tallest in the U.S. That's probably the case for freshwater dams, but here in West Virginia, the Brushy Fork coal sludge dam is permitted to be 920 to 954 tall, about 80 feet higher than our state's iconic New River Gorge Bridge. It is also permitted to hold nine billion gallons of coal prep plant waste, aka coal sludge or coal slurry. (The photos above and at left are the Brushy Fork dam. Thanks to SouthWings.org for the flyovers that allowed me to snap these shots.)
Back in 2000, we commissioned a report that put the height of the Brushy Fork dam, as approved at that time, at 622 feet. We were fighting another expansion of the dam. Today, we'll put in a call to DEP to see if we can get an update on its current height.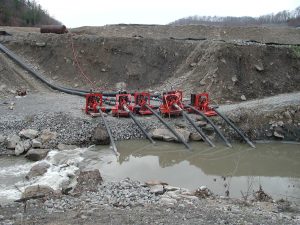 But whether or not this dam is taller than the Oroville dam doesn't really matter. What matters is that this dam was built by Massey Energy (now Alpha Resources), by the same engineers who designed a Massey Energy coal sludge dam near Inez, Ky., which partially failed in October 2000. The failure released 300 million gallons of sludge into two streams. The sludge traveled 75 miles, in a thick blanket that reached more than seven feet deep in some areas, choking off aquatic life. At that time, the spill was considered the worst environmental disaster ever to hit the southeastern United States.   (The two photos at left are from March 2001. As you can see clean-up efforts were still underway.)
Like the failed Inez impoundment, Brushy Fork, a lake of slurry, sits over old abandoned deep mines. A collapse would threaten the town of Whitesville, WV. 
What matters is that every time we have a really intense storm in West Virginia, some people living near these type of dams shudder. Could this be the storm that causes the dam to fail? There are somewhere around 136 coal sludge dams in West Virginia, but Brushy Fork is the largest. The threat is real, the worry ongoing. 
What matters is that our DEP, the WV Department of Environmental Protection, leaves a lot to be desired in terms of actually doing its job of oversight of the coal industry here (and other industries). (And we can't really crow about the job the federal EPA is doing either, but the OSMRE and the Army Corps of Engineers are the agencies with more of a say on how DEP is doing on keeping tabs on these dams. Can't say we've had any grand results when dealing the Corps… ) 
What matters is that our new governor is a coal baron (not uncommon for WV governors; this one owes millions for safety fines and penalties and his coal-businesses-related taxes) who thinks the DEP isn't doing enough for industry. 
What's unfolding with the freshwater Oroville dam dredges up all these worries. That's this is happening in February also stirs memories of another coal sludge dam disaster, caused by some heavy rain, and a lot of coal industry abuse, and a lot of government collusion with the coal industry. On February 26, 1972, 125 were killed in the collapse of Pittston Coal's dams on Buffalo Creek. Thousands were made homeless.  
Climate change, unsafe dams, scofflaw coal companies and corporate-controlled government make for ongoing worry.