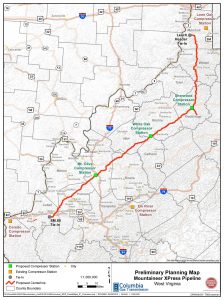 Below are talking points you can use to make your own comments on the DEIS (draft environmental impact statement) for the proposed Mountaineer Xpress Pipeline.
You can make written comments until April 24, and/or you can attend one of these meetings:
Monday, March 20, 2017 – Hurricane, WV Notice
| Event Details
To submit written comments, go to this link. You will need the docket numbers for the project. These are: CP16-357-000 (MXP) and CP16-361-000 (Gulf Xpress). 
From WV Rivers Coalition: Click here for a one-page fact sheet with easy guidelines on how to comment to FERC, and for talking points you can use to make your comments.
Below are comments OVEC has compiled from our review of the DEIS. You may also use these comments for your own in-person or in-writing comments.