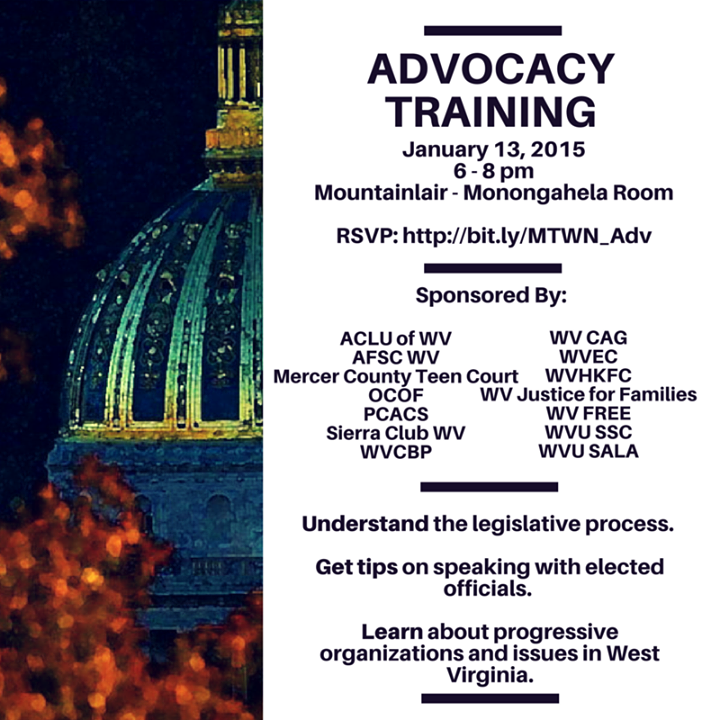 January 13, 2015 at WVU Mountainlair Student Union in Morgantown, WV.
With American Civil Liberties Union of West Virginia, American Friends Service Committee WV, Mercer County Teen Court, Our Children Our Future, People Concerned About Chemical Safety, Sierra Club West Virginia, West Virginia Center on Budget and Policy, West Virginia Citizen Action Group, West Virginia Environmental Council, West Virginia Healthy Kids and Families Coalition, West Virginia Justice For Families, WVU Sierra Student Coalition, and WVU Student Advocates for Legislative Advancement -SALA, we are co-sponsoring an Advocacy Training in Morgantown on January 13, 2015! This meeting will take place in the Monongahela Room of the Mountainlair from 6 – 8 pm.
Come understand the legislative process, get tips on speaking with elected officials, and learn about progressive organizations and issues in WV!
RSVP at http://bit.ly/MTWN_Adv. We hope to see you there!
Address: 1550 University Ave, PO Box 6437, Morgantown