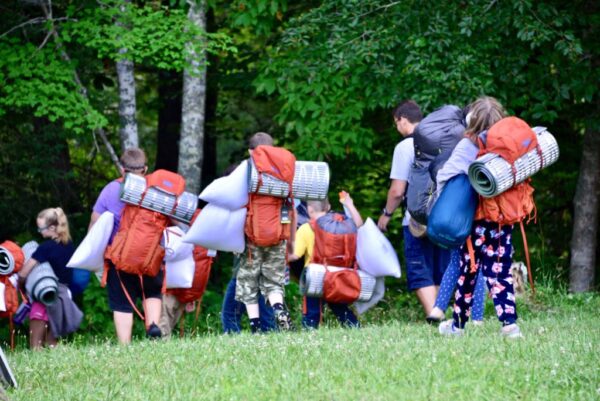 Camp Waldo is an environmentally focused, nonprofit summer camp in southern West Virginia.
The camp is currently inviting both campers and counselors to apply to take part in a three-week overnight camp from June 13 – July 3. Find applications at www.campwaldo.org.
The camp welcomes any children who are currently 3rd-6th graders. Camp is $200 for the entire three-week session, less than 10% of the actual cost of the camp. Camp Waldo can reduce or even entirely waive the fee for any family that cannot afford it.  
Camp Waldo's goal is to connect kids from the region with the environment through outdoor learning and exploration. Campers engage in the camp's ecology and environment program daily, learning to understand our ecosystem and to become wise stewards of our natural resources.
This summer's camp will host about 104 campers, 26 counselors, and several administrative staff.
Campers will spend each morning in the ecology program, which is designed to connect the campers and staff with nature and thoughtful environmental stewardship. Campers will also enjoy activities like creative writing, music, visual art, theater, basketball, soccer, archery, chess, yoga, gardening, and beekeeping. Campers will explore the outdoors through activities like camping, backpacking, and paddle trips.
Now Hiring Counselors
Camp Waldo welcomes applications from college students or rising college students. Each Camp Waldo counselor is expected to be present from June 4 – July 3. All counselors are paid $1,500 and provided with provides housing, three hot meals a day, and ten days of staff training. We also have opportunities for paid internships after camp concentrating on organic farming, native plant horticulture and honey bees. Find applications at www.campwaldo.org.
Camp Waldo takes place at a recently renovated historic camp in the big bend of the Greenbrier River, approximately 15 minutes from Hinton, West Virginia. We have a large dining hall, stages, sports fields, a basketball court, archery range, a garden, a greenhouse, and honey bee yards. Our recently renovated cabins accommodate two counselors and eight campers. Each cabin has two private bathrooms with private showers.