A guest blog by Barbara Daniels and Tom Rhule, with the WV Mountain Party Environmental Justice Committee. Note that all opinions expressed are those of the bloggers, and do not necessarily reflect the views of OVEC members and staff. Factual statements below are the result of the writers' research and have not been fact-checked by OVEC.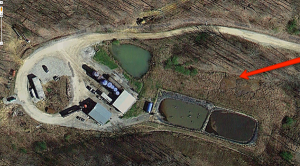 For more than a century rural West Virginia has been the dumping grounds for toxic waste. So on January 12, 2016, Fayette County passed an historic ordinance to ban it. Fayette has one of the highest cancer rates in West Virginia, a state where cancer is projected to rise faster than most everywhere else in the nation.
However, on June 10, after cancelling a scheduled hearing, Federal Judge John T. Copenhaver ruled that state-issued permits for the purpose of dumping horizontal hydrofracturing (HHF) wastes override the Fayette County Commission's authority to protect county residents from being contaminated from them.
Cancelling all scheduled testimony one day before the hearing, Judge Copenhaver, who has recused himself from numerous previous natural gas cases, may have felt that the evidence slated for the Fayette County Commission's appeal too informative for public consumption.
Ruling from the bench, Copenhaver effectively prevented getting on the court record that the WV Department of Environmental Protection (DEP) had recently re-issued permits for two HHF waste injection wells, despite the agency knowing that the facility had seriously contaminated nearby Wolf Creek. The injection wells are located upstream from a Fayette County public water intake, but the DEP has incredibly never ordered the dumping stopped, nor even adequately monitored the wells to determine if theys are still leaking.
With assistance from natural gas lobbyists, the same DEP, whose permitting authority Judge Copenhaver upheld, has instituted three WV regulatory laws that seriously endanger public health.
One classifies all gas- and oil-field wastes as non-hazardous, no matter how toxic or radioactive.  Another prevents anyone, including first responders, from ever finding out exactly what chemicals are in HHF fluid wastes.
Possibly the worst allows owner-only monitoring of HHF-waste tanks.
Throughout the state thousands of natural gas waste holding tanks are all under-classified by state regulators, as if they simply contain brine. Yet curiously, as a Homeland Security measure, public disclosure of their locations is disallowed. But if they only contain "brine." then why are Homeland Security measures necessary?
The truth that Homeland Security hides, DEP obscures, and Judge Copenhaver ignored is that many, if not most, contain extremely corrosive material, and up to 500 different compounds that are highly toxic and even radioactive.
Historically, terrorists have never poisoned a single West Virginia stream. Meanwhile, numerous corporations have seriously contaminated the source waters for communities across the state. Without adequate public oversight West Virginia extraction industries have a legacy of running rampant, operating under permits "legitimately" issued by an agency that has become known across rural West Virginia as the state's Department of Everyone Poisoned.
If their lips weren't sealed by a Waste Virginia court order, the survivors of Rawl, Merrimac, Sprigg, Lick Creek, and many other communities would tell you that piping "city water" to their homes came too late for far too many residents. Long after their water wells were contaminated with coal slurry, DEP permits to dump it into abandoned coal mines local to those communities were revealed in a WV Department of Health and Human Resources (DHHR) study to have been dangerously inadequate. (Ed. note: Follow links at this blog entry to learn more about coal slurry injections poisoning these communities.)
By failing to step in around a decade earlier to block the initial DEP decision to permit the pumping of coal slurry into abandoned mines, the DHHR shirked its responsibility to protect WV citizens from the DEP's serious lack of regulatory integrity.
After the infamous MCHM leak into Elk River, we should all by now fully understand that the need for public oversight of our source waters far outweighs the threat of terrorism. Nonetheless, for the first time ever, the WV Bureau of Public Health's Source Water Assessment Program demands that its officials sign non-disclosure agreements. This prevents the general public from being able to efficiently monitor the exact whereabouts, size, or contents of significant potential pollution sources. Incredibly, the WV legislature recently exempted federal and state agencies from answering citizen FOIA requests regarding the state's Source Water Assessment Program.
These loopholes, instigated by WV's Department of Homeland Security, lead local citizens to wonder if the fear of terrorism isn't being used to hide yet more mass poisonings of entire communities, under DEP-permitted dumping of even more industrial wastes.
Often hauled in out of state, there are no other sources of HHF waste in Fayette County. So until Copenhaver's ruling is successfully appealed, no West Virginia county can exercise its state-codified authority to protect against state-permitted toxic dump sites, or outlaw the seriously under-regulated "holding" tanks located on them.
As it stands now, there are more than 600 similar HHF injection wells scattered throughout West Virginia threatening the source waters of your community.