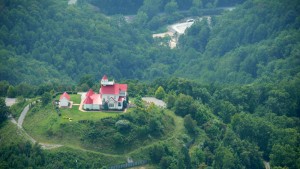 In August, our good friends over at Coal River Mountain Watch took a Mother Jones magazine reporter on a tour of Massey Energy's (now Alpha Natural Resources) messes for an article that is out today. Tomorrow, Massey Energy CEO Don Blankenship's trial starts. He faces charges over lying to regulators and investors about safety measures at a coal mine where a horrifying explosion killed 29 men on April 5, 2010.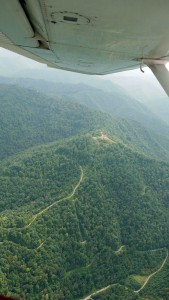 As history unfolds with Blankenship's criminal trial, many of us West Virginians are hoping for some semblance of justice for the families of the miners who have died in Massey mines.
Right now (as pretty much always), it's hard not to think about and live with (or die under!) numerous other instances where people have struggled for justice as Massey (and other coal corporations) messed with West Virginia's history.
For the Mother Jones story, photographer Stacy Kranitz wanted aerial shots of Blankenship's mountaintop mansion that looms over Mingo County, WV. On August 29, a SouthWings volunteer pilot flew Kranitz over Mingo County, with me on board as an aerial guide. Of course, I snapped some shots from my seat behind the photographer.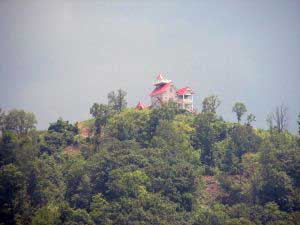 Long before (and ever since) the fatal Arcoma and the Upper Big Branch Massey coal mine tragedies, OVEC, Coal River Mountain Watch and our allies have been confronting slower-motion coal-industry-created tragedies, such as the poisoning of the groundwater feeding people's wells in Sprigg, Lick-Creek, Merrimac and Rawl, communities in Mingo County.
One of my first views of Blankenship's castle on the mountain was from inside a home in Sprigg. Just as the family members had to do every day, I stood at the kitchen sink, turned on the family's tap, breathed toxic hydrogen sulfide fumes, watched the coal-slurry contaminated water fill the sink, and looked out the kitchen window at Blakenship's castle. Up there, he had clean water piped in. Meanwhile all the families down in the hollows below had been trying for years to get public water piped in, because their once-sweet well water had become contaminated. The water was causing people to develop all manners of severe illnesses.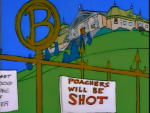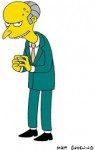 (I couldn't help thinking of The Simpsons' Mr. Burns and Burns Manor, from which Burns gleefully rubs his hands together, looking down upon the townspeople his nuclear plant is poisoning.)
The source of the well-water contamination? Massey Energy's Rawl Sales and Processing had been injecting billions of gallons of coal prep plant waste underground to "dispose" of it. OVEC organizers began working with Mingo County residents to get something done about the water troubles in the communities. It was a long haul.
For several years, via our Sludge Safety work, citizens lobbied at the State Capitol and eventually won a ban on any new underground injections of coal prep plant waste. (Our Sludge Safety work's work is a big focus of the documentary Burning the Future.) After 13 years of agitating and much illness, municipal water pipes finally reached the Mingo County communities. OVEC also networked community members with the attorneys who brought a years-long lawsuit, which was eventually settled. (The documentary Coal Rush follows that lawsuit.)
Here's more of the Mingo communities' history:
The Coalfields, Where Water is Considered a Luxury
Something's in the Water
Coal Sludge and Groundwater Don't Mix
Lawsuits Muddy Water Project
Massey Energy Court-Ordered to Provide Water in Mingo Co.
After 13 Years, Work Finally Underway on Lick Creek Water Project
Elaine Speaking Out on Slurry's Evils
Slurry Study Before Legislative Subcommittee
Clean Drinking Water at Long Last!
State Supreme Court Upholds Verdict Against Coal Company Over Destroyed Water Wells
Blankenship: Good Riddance
Residents Settle Massey Coal Slurry Contamination Lawsuit
Slurry Pollution Case: Settlement Disclosed
See page 31 for Donetta Blankenship's (no relation!) story: Especially for People Like Us