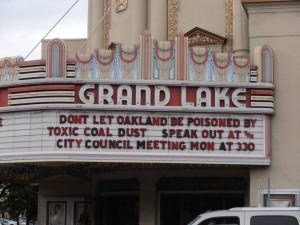 Hey Kentucky, I've got good news for ya! The death of coal companies has been largely exaggerated. It turns out your coal companies are fine, they are just busy destroying Utah and Oakland now. Oh, and New Mexico and Colorado, too, just as they have destroyed the health and environment of Appalachia for decades. Now, after destroying Kentucky's economy and abandoning communities via a vanishing act, and leaving that mess behind, we've figured out where they are and what they are up to, well at least one of them.
Bowie Resource Partners, a decidedly non-union company, based in Louisville, KY, has recently popped up in Oakland, California, with a plan to ship in their Utah coal via rail through working class communities of color in West Oakland to a proposed coal export terminal to be built for shipping coal to China, India, etc. Far from going out of business, Bowie is currently expanding and buying new mines out west, while coalfield communities in Appalachia are suffering devastating economic times.
I've previously blogged about this for OVEC back during the last Oakland City Council hearing, which was jam packed with hundreds of residents waiting hours to speak. It turns out that hot button environmental justice issues will do that. Yeah, it turns out that the health and environmental impacts of breathing toxic coal dust has a lot of West Oaklanders pretty damn pissed off. These same communities fighting against police violence to let the world know that #blacklivesmatter, now need to tell Bowie Natural Resource to respect black lives, black health and black neighborhoods as well. West Oakland was the birthplace of the Black Panther Party, after all.
Dan was an OVEC organizer for a couple of years. He's now living in Oakland, California and still looking out for Appalachia, as well as Oakland. Read the rest of this blog, Solidarity is the new I love you, here.
Sign this petition to tell Bowie Resource Partners: No Coal Export Terminal in West Oakland!