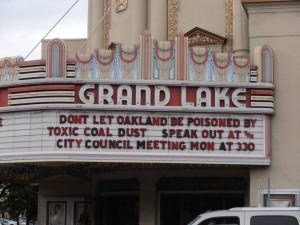 Updates: Oakland City Council packed for special hearing on controversial coal shipping proposal

Oakland City Council Moves to Block Coal at New Port Terminal
Crops, not coal, are best for Oakland
—
As everyone in Appalachia knows, coal is in a massive downturn, with workers losing jobs and companies filing bankruptcy to get as much money out of this dying industry as they can before the whole thing goes belly up.  
Even out on the West Coast, in the San Francisco Bay Area, that bastion of lefty progressives, Big Coal is making efforts to squeeze out the last bit of profit it can from the communities that  have been subjected to environmental injustices for years.  
Big Coal wants to dupe China into buying its declining product, this time from surface mines in Utah. A developer called Terminal Logistics Solutions (TLS) wants to build a coal export facility at the Port of Oakland. West Oakland, a working class community of color, will bear the brunt of this scheme, via exposure to coal dust and other health concerns. In an area that already has higher than average rates of asthma and low health outcomes, this is not a welcome plan.
Wouldn't you know it, TLS wants tax breaks for this project. And, to get the project passed, TLS appears to be engaging in some shady political maneuvering, including, according to an East Bay Express article, meeting with "leaders of West Oakland environmental organizations and several churches to offer them potentially millions of dollars if they would agree to back their plan."  
Brian Beveridge of the West Oakland Environmental Indicators Project is quoted as saying, "As much as money is important, we weren't going to sell our voice for something we knew up front wasn't good for us."
The article goes on to say that, "Opponents cite the environmental and health impacts of the coal industry, especially dust blown from trains and silos into surrounding communities. They have pointed out that there have never been health and safety studies of shipping coal in the types of train cars and terminal equipment that TLS has said it will use. Indeed, there are no covered rail cars used to transport coal anywhere in the United States today. Critics also say that enclosing coal in cars and silos could pose explosive fire hazards. Opponents also say the plan is economically risky because US and overseas markets for coal are shrinking as regulators here and abroad try to reduce carbon emissions."
Even labor unions have jumped in to oppose the project.The Alameda Labor Council executive committee passed a resolution opposing the export of coal from the facility last week.
Longshore workers at the Port of Oakland also recently voted in opposition to the plan. In a statement, ILWU Local 10 Business Agent Derrick Muhammad said, "Coal is not the right way to bring jobs to Oakland. Oakland families are already worried about asthma and other sickness because of highways and port activities. It's not right to ask them to take on the worry and risk of nine million tons of coal passing through their neighborhoods on trains each year. If the developers haven't found a cleaner, safer product yet, they owe it to the City of Oakland to make good on their promise and keep looking. They'll find better cargoes if they are truly committed to bringing good, safe jobs to our community."
We hope the Oakland City Council will stay strong and stand with workers and the community to defend their health and safety and oppose this project against the onslaught of favors and innuendos from TLS. With the coal industry in decline, it is not only a health matter, but also economically unsound to support coal export projects. Countries like China, much like the U.S., are turning to cheaper fuels like natural gas (note we said cheaper, not healthier, not cleaner, not better) and cleaner options like renewable energy. Coal exports will eventually no longer be economically feasible.  
Hopefully, folks in Oakland can build some solidarity with those fighting the dirty and dying coal industry here in Appalachia. The continuing fight against climate change and global climate catastrophe will take all the solidarity and alliance building that we can manage. After all,  projects like this proposed coal export terminal and mountaintop removal mines in West Virginia are all part of the same struggle. So, please do your part and support organizations like OVEC that are working to bring people together to fight for the changes that we need.