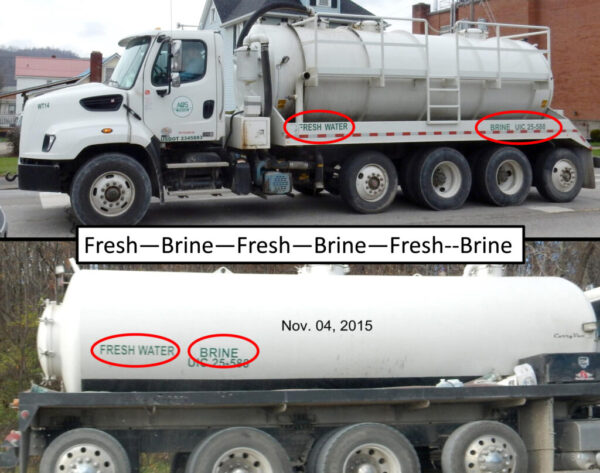 About three miles from my home is a Class II Injection well, the Dennison Disposal, operating at Dennison, OH on Route 250 since 2016. We see the fat tanker trucks traveling all along our roadways to deliver their cargo to disposal sites. They are innocuously labeled as "brine" but the liquid cargo contains more than salt water and could even contain radioactive materials.
On July 1, I attended an environmental community science meeting at the Ohio University Campus Eastern in St. Clairsville, Ohio. The meeting was to provide local citizens with scientific information regarding a proposed oil and gas waste Class II injection well to be located at the intersection of U.S. 40 and Ohio 331.
Presenters at the meeting included Dr. Nicole Deziel, an Assistant Professor of Epidemiology at Yale University and Dr. John Stolz, Director of the Center for Environmental Research and Education at Duquesne University. They shared the results of their scientific research for members of the Richland Township Community.
This Class II injection well would accept produced water wastes from high pressure hydraulic fracking. This waste contains flowback water, the fluid used to frack a well. This fluid is a chemical cocktail that can contain benzene, arsenic, formaldehyde, lead, mercury, and many other proprietary chemicals.
The liquid waste also contains toxic metals, radioactive materials, and brine resulting from contact with the ancient rock formation that is being fracked. As a well is fracked, millions of gallons of fracking fluids are injected deep into the rock strata. According to a 2018 study out of Dartmouth College, in just hours, radioactive Radium 226 and Radium 228 can be leached out of the rock and into the saline solution. As the brine is pulled to the surface to be disposed of, the water-soluble radioactive isotopes hitch a ride as well.
"More than 18 billion gallons of waste fluid from oil and gas is generated annually in the USA" according to the American Petroleum Institute. The waste is often referred to as Technically Enhanced Naturally Occurring Radioactive Materials or TENORM.
A Pennsylvania study found that produced water from a horizontal unconventional well can contain water soluble Radium-226 in concentrations ranging from 40- 26,000 pCi/L. The safe drinking water standard for Ra-226 and RA-228 is 5 pCi/L. This toxic radioactive waste is what is pushed down injection wells in Ohio. In addition, much of the waste injected into Ohio's Class II wells comes from out of state sources (Pennsylvania and West Virginia).
According to a study done by our allies at FrackTracker Alliance, Ohio has 226 active Class II injection wells. These wells dot Ohio's landscape in and along the area of Utica and Marcellus drilling, as well as expand into Ashtabula, Trumball, and Portage counties to the north and Washington, Athens, and Muskingum counties to the south.
FracTracker data shows that the top twenty wells within these 226 are accepting more waste each year, at least 24,822 barrels more annually. This is due in part to an increase in the horizontal distances drilled to frack a well. In the beginning of the fracking boom, most lateral lengths were approximately two miles, now they have increased to three to three and a half miles. These "super laterals" require more water to frack and therefore create more wastes or "produced water".
OH Class II Injection Wells – Waste Disposal and Industry Water Demand
In some areas of Ohio, such as Warren, Ohio, "frack-friendly" legislation has been introduced that would, according to FracTracker, "monetize and/or commodify fracking wastes by giving townships a share of the revenue." This legislation is: House Bills 578 (Reps Michael O'Brian, Glenn Holms, John Patterson, and Craig Riedel) and House Bill 393 (Anthony DeVitis ) and Senate Bill 165 (Mike Skindell and Matt Dolan). Oppose this legislation! 
Another troubling issue is the use of waste brine as a deicer on Ohio's roadways. This not only increases the release of bromide and chloride ions into our watersheds but also adds radioactive nuclides such as the water-soluble Radium-226. Pennsylvania stopped the use of brine on road surfaces in 2016 to protect human health and the environment.
Instead, Ohio's oil and gas industry is taking advantage of the lack of adequate regulations for waste water. The industry has found a way to make money from the salty wastes. Aqua Salina is a product made from waste and marketed as "ancient sea water". It can be found by the gallon at many local hardware stores.
Samples purchased directly from shelves of local hardware stores were tested and results showed some samples were as high as 500 times greater than the background radiation from Radium -226 and Radium -228. If someone drinks water with radium in it, the body mistakes it as calcium and will use it to build bone cells. Radium is an alpha emitter and can cause bone cancer.
House Bill 393 makes it impossible to regulate the sales of this radioactive product. An excellent article in Ohio's Columbus Free Press said that "Ohio's roads are being sprayed with this radioactive waste at a recommended rate of "30-50 gallons per lane/mile." Ohioans need to contact their township trustees and the Ohio Department of Transportation and demand that this product not be used on roadways.
Ohio is certainly taking more wastes from fracking than any other state in the region. A report in Appalachian Voice said Ohio is fifth behind Texas, Oklahoma and California when it comes to wastes. The state charges 20 cents a barrel for out-of-state wastes but once a well reaches 500,000 barrels, there is no fee. More than half of the out-of-state wastes come from either Pennsylvania or West Virginia. Pennsylvania operates five Class II injection wells while West Virginia has 62 active wells.
A report from the Center for Public Integrity "calls the radioactive waste stream from horizontal oil and gas operations 'orphan waste' because no single government agency is fully managing it. Each state is left to figure out its own plan. Ohio, for example, hasn't formalized waste rules, while New York, which banned fracking, still allows waste disposal.
This may be one of the reasons 400 tons of low-level radioactive wastes from West Virginia ended up in a landfill in Estill County, Kentucky. The Blue Ridge Landfill was not permitted to accept such wastes which were located near a Middle School and High School Complex with 1200 students.
Antero Energy opened a 500-million-dollar combination wastewater treatment and landfill in Doddridge County West Virginia to treat wastes from fracking. The facility recycles waste water and reuses it for fracking. The process generates salt from the brine in produced water. This brine (2100 tons a day) is being landfilled on a 500-acre site next to the water facility. This is not an ideal situation because at its peak, "the facility could see up to 600 trucks a day, processing 60,000 barrels of wastewater."
Fracking waste will only become a greater threat as the Ohio Valley continues to court petrochemical industries and plastics making cracker plants. It is hard to imagine another industry that is teeming with so many externalities. From beginning to end, fracking is just one hot mess.
Contact info@ohvec.org to get involved with our efforts to fight back!