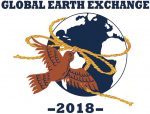 Update: Join our event; Radical Joy for the Ohio River!  Details here.
OVEC's retired Executive Director Janet Keating is seeking volunteers and representatives of local progressive groups to help organize a local Global Earth Exchange event, which will take place in Huntington on the banks of the Ohio River—our orphaned, damaged place that needs our loving attention. If you want to help plan the event and/or attend it, please e-mail info@ohvec.org. 
You may also organize an event in your own area; see below.
From Radical Joy for Hard Times:
We can't wait any longer to love the places we're losing!
Every day the places we love are disappearing because of human and climactic forces!
Even as we work to protect and restore them, we must live with them and love them as they are,  just as we do with a dear friend who's suffering hard times.
Now is the time to show our love for these places with bold acts of beauty!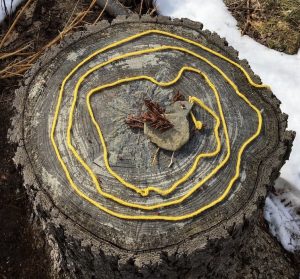 START SPREADING THE GOLD ON JUNE 16
Starting with this year's Global Earth Exchange on June 16, we'll use golden yarn and found materials to declare our refusal to abandon the places we love just because they're polluted, cut down, paved, or damaged! When you register on our website, you'll receive 8 feet of organic yarn that you can weave into your gift of beauty for the place.  
JOIN PEOPLE BINDING THE EARTH!
Following the Global Earth Exchange, you can continue to join others around the world to call attention to damaged places wherever you find them! With your golden yarn, you can mend cracks… bind what's broken… bundle stray bits… and of course make the RadJoy Bird that is our symbol. Every time you make an act of beauty, we'll put your photo and story on our website and social media. Together we'll let the world know that the bond between people and their places cannot be broken!
You can register your Global Earth Exchange on our website anytime between now and June 15.
Let's bring the orphaned places of the Earth back into the web of life with gifts of gold!