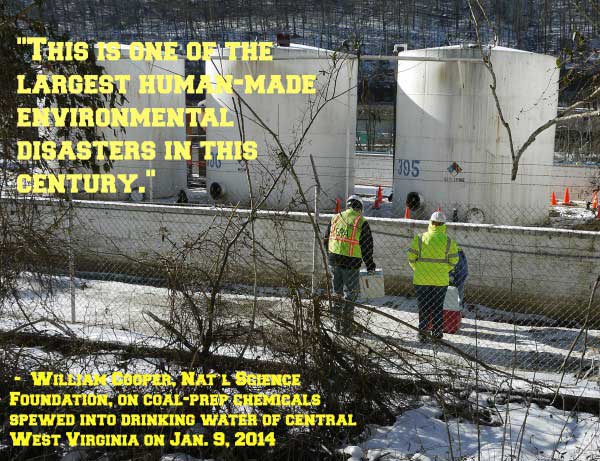 In February of this year, People Concerned About Chemical Safety, Coming Clean's Environmental Justice Health Alliance, and the Natural Resources Defense Council settled our lawsuit against EPA with an enforceable consent decree that requires the Agency to adopt a rule required by the Clean Water Act 40 years ago to prevent chemical spills from aboveground storage tanks.
As part of the settlement and the process to develop the new rule, EPA is holding two "virtual" public input meetings through online web conferences. If you were unable to attend the November 2 face-to-face meeting that was held in Charleston, this is your chance to tell EPA what you think.
The virtual public meetings are:
10 a.m. – 12 p.m. EST on November 29
2 p.m. – 4 p.m. EST on December 1
EPA needs to hear loud and clear that the Agency should move as quickly as possible to write and adopt a strong rule to prevent chemical spills from aboveground storage tanks.
EPA wants your advice on preventing the next Elk River spill 
Note that you must pre-register with EPA in order to receive the information on how to join the meeting.
Go to this page: https://www.eventbrite.com/e/cwa-hazardous-substances-spill-prevention-virtual-public-input-meeting-registration-28889411006
Click the "Register" button.
Select which date you want to attend.
Then enter your personal information to finish your registration.
We encourage partners, especially those who live near or work on aboveground storage tanks and related issues (including water protection, chemical disasters, etc.) to join these public sessions and help us push EPA to draft a strong rule.
Any rule that EPA proposes should:
Focus on Prevention – Include specific measures and requirements that companies and facilities must implement to prevent spills, including written spill prevention plans that are disclosed to the public, regular internal and external inspections of all storage tanks, and third-party inspections and safety audits;
Require Containment Systems – Include additional measures and requirements (not as a substitute for prevention requirements) to immediately and quickly contain spills if they do happen using the best available methods technologies;
Ensure Complete Notification, Response, and Cleanup – Require immediate public notification of any leaks or spills, ensure aggressive responses to spills, and require companies to pre-fund spill response and cleanup costs;
Honor Public Right to Know – Require reporting to EPA, and online disclosure by EPA to the public, of all Aboveground Storage Tanks, their size, the chemicals they contain, and any other relevant information;
Cover More Chemicals – Only 300 hazardous chemicals will be covered by this rule, but many more toxic chemicals – including MCHM, which was spilled during the infamous Freedom Industries spill in WV – would not. EPA should expand the list to include all chemicals that threaten drinking water.
Thanks,
Pam Nixon, Executive Director, People Concerned About Chemical Safety
Pam is also on OVEC's board.
Also see Bill Hughes' blog about aboveground storage tanks: