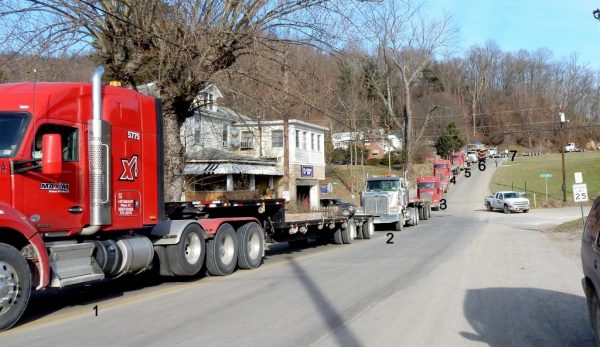 Corporations building major pipelines such as the Mountaineer Xpress, the Mountain Valley, and the Atlantic Coast are ramping up construction activity here in West Virginia. Rover Pipeline construction has proven problematical. Those who stand to profit handsomely from the proposed massive Appalachian Storage Hub/ Petrochemical Complex are breathlessly promoting all kinds of supposed benefits of a petrochem build-out, with nary a mention of the downsides for we, the people. To feed all the permitted and proposed pipelines, oil and gas companies would have to launch an onslaught of fracking in the Marcellus and Utica Shales, and maybe even the much deeper Rogersville Shale. 
Wetzel County resident Bill Hughes sent us this photo on March 19. It reminds us of just one aspect of what more fracking, more pipelines, underground natural (fracked) gas liquid storage caverns, and cracker plants would mean for our region: more clustertrucks. 
Bill wrote, "At about 5:10 p.m. today these SEVEN 18+ wheel tractor-trailers left the William's compressor station on Blake Ridge. They traveled as one convoy first on Rt. 89, then onto Doolin Run, and then into New Martinsville. They arrived at Route 2 at 5:40 p.m."
Bill snapped the photo above on Route 2. He notes that is in the company's (most of the trucks here bear the marks of Maxim Crane Works LP) own best interest to not create these kinds of clustertrucks. If one truck should go over the edge on the narrow, often berm-less roads in the area, or have some other incident, all the other trucks jamming the roads would make it extremely difficult to get repair or rescue equipment to the scene of an accident. 
For more than a decade, Bill had been documenting what fracking-related activity is doing to his home county of Wetzel, as well as surrounding counties. He shares what he has learned on ground tours, in talks with students, civic groups, and reporters. We've posted just a fraction of his photos and reports here. 
The next time you read some bubbly, shiny, happy take on how wonderful all this fracking, all these pipelines, and this massive petrochemical build-out could be for West Virginia, take some time to learn from people already living this nightmare. 
West Virginians don't have to bow down to the new fossil fuel king. We can have a better future. 
#NoASH #PetroFreeWV