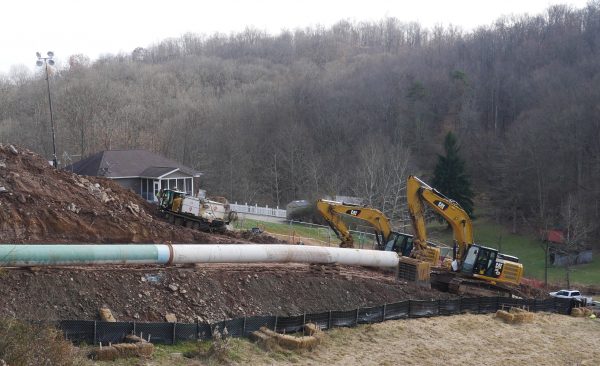 March 26 Update: Rover in Ohio: Residents near Wooster awoken by terrifying noise coming from nearby gas compressor station
See more Rover Pipeline construction photos over on flickr: here and here.
For the last couple of days, I've been travelling with Bill Hughes, observing some of the impacts of the Rover Pipeline construction in Tyler and Wetzel counties in West Virginia.
Almost daily since August, when the surveying started, Bill's been monitoring this site, two miles east of Sistersville, WV.  This spot is at about what Energy Transfer Partners labels mile point 28 of the 713-mile Rover Pipeline.
Bill brought me here two days in a row. Each time we stayed probably less than an hour—that was about all I could take as the diesel fumes, rock dust from the drilling and excavation, and noise levels were close to intolerable. Imagine having to endure this for weeks so close to your formerly quiet rural home! (In the shot above, notice the light fixture. Some activity goes on after dark, too.) Imagine being one of the workers constantly subjected to these pollutants!
The first day we visited, Bill spoke with one of the homeowners, who told Bill his family had no water. Even though a survey crew had clearly marked domestic water and gas lines before the excavation began, something happened and the family's water supply was cut off. (A few weeks prior, their gas line had been cut.) Once we zoomed in on some of the photos we took during our visits, Bill speculated on what may have happened to the water line…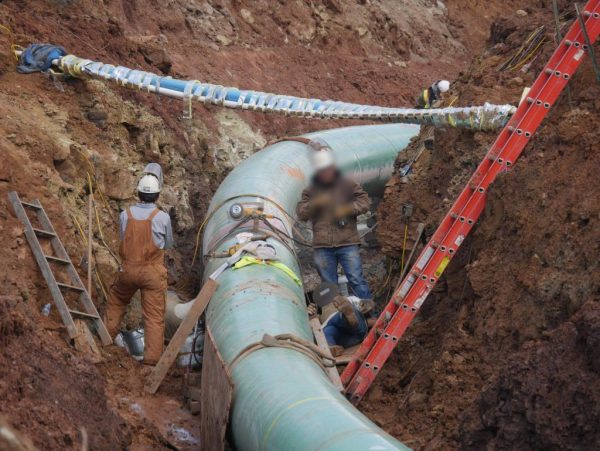 Above: Notice the smaller, darker blue pipe crossing at the top of the photo, above the fellows who are welding together two sections of the 36-inch diameter pipeline (in other areas, the Rover Pipeline is 42-inch). Lashed with pipe-wrap insulation tape to that blue pipeline is a white water line. Also attached to the blue pipe are a heat tape and an an extension cord (plugged into a stinky diesel generator). Since we could see no sign of the water line having been severed by excavation equipment (although that could be the case), Bill speculates that the blue pipe was strung across the work area to help support the water line, and the assorted heating elements—added after the family notified the construction crew that they had no water. Speculation: the intact water line may have frozen the night after it was exposed.
One area resident, who is an active military member and had been a WV State Trooper, told Bill he's gravely concerned about his community's safety. He says he knows the inherent dangers of firearms, having worn a sidearm for decades, but he is much more fearful of the close location of this high-pressure, high-volume, highly explosive gas pipeline (the gas will flow in the pipe at approximately 1400 PSI). The resident says he can control his firearm, but he can't control the Rover Pipeline in his backyard, from now to forever.
The eight homes in this community are located an average of 350 feet from the pipeline. Should a malfunction occur, the incineration zone for the pipeline is a radius of approximately 1000 to 1400 feet. That is, should a blast occur, everything within about 1000 feet will be incinerated. 
Bill set up this screen shot from Google Earth, with an approximation of the pipeline's route, so that you can more readily visualize how close the pipeline is to the eight homes here: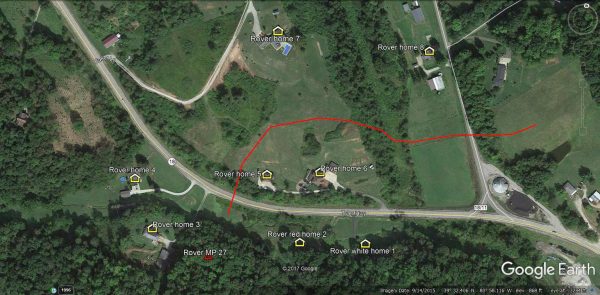 Below are some more photos from this particular area, along with a little video footage illustrating the aforementioned dust. Rover, Rover, why oh why did you come over so close to these families?!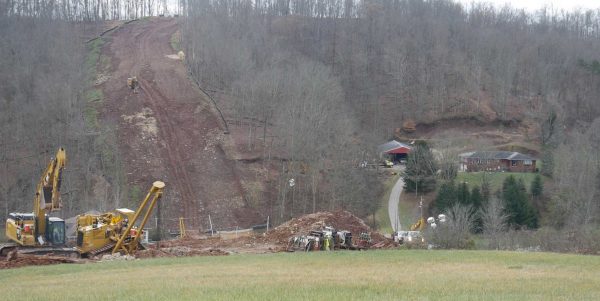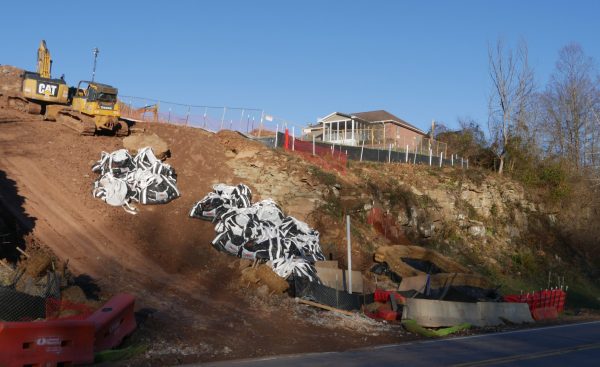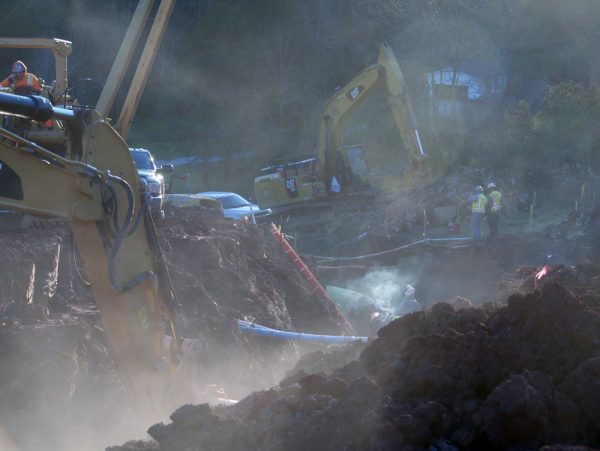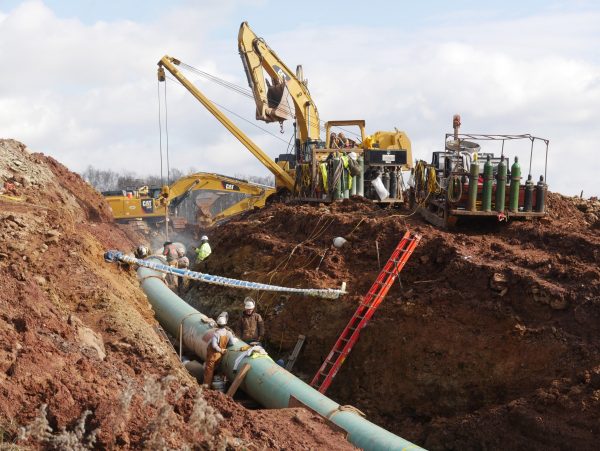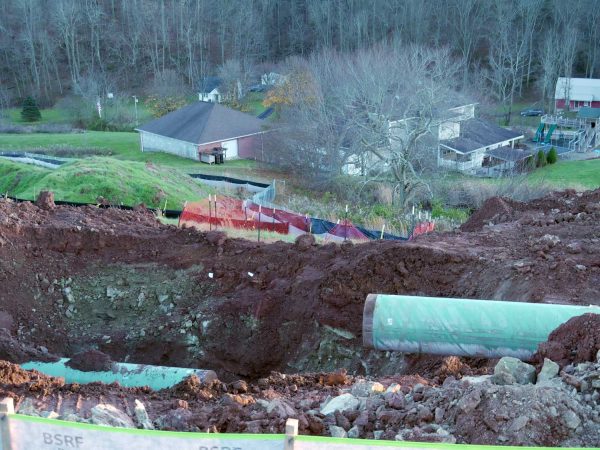 Rover
Length: 713 miles
Route: From processing plants in Pennsylvania, West Virginia and Ohio to delivery points in Ohio and Michigan
Status: Some segments in service, others under construction; completion expected in early 2018
The $4.2 billion Rover project to move up to 3.25 billion cubic feet of gas from Mid-Atlantic shale plays is being developed by Energy Transfer Partners LP, the company behind the heavily protested Dakota Access oil pipeline.
The project had problems with drilling fluid leaks and other environmental issues in Ohio almost as soon as construction started this spring, and the state of Ohio is suing Energy Transfer Partners on charges that it violated state air and water protection laws. West Virginia regulators also briefly stopped construction on the project, and Energy Transfer Partners is operating under construction limitations from FERC.
FERC also has an ongoing investigation into whether the company used unapproved ingredients in its drilling fluid mix. In 2015, Energy Transfer Partners purchased a historic home near the pipeline route with assurances that it would be protected, but instead demolished it. FERC and Ohio state agencies negotiated a settlement for potential violation of the National Historic Preservation Act, and the company paid a portion of the agreed fine but has indicated it will not pay the balance.
Just a couple of the recent news articles on Rover: