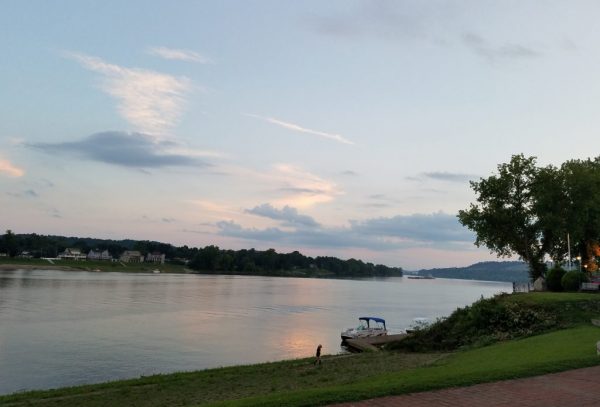 So, you may have already submitted a comment to ORSANCO, as requested in this blog. Now, however, we are asking you to also submit comments—copies of those already sent to ORSANCO, or original—to the governor of your state. Keep reading for information on how to do that. 
Why is this important? Because the governor of each state in the ORSANCO compact appoints and heavily influences the state level representatives of the ORSANCO Commission; essentially, the Commissioners take their marching orders from their governor. Thus, it's now critical that your governor hears from voting citizens with opinions about weakening Ohio River water quality standards. We need to speak up now (prior to August 20), or the watershed we depend upon in this region could become dramatically more impaired. Whether a short note, or a long detailed letter, your communication with the governor of your state is critical at this point in time.
This is a hopeful issue. There is a good chance that getting a lot of citizens to comment to ORSANCO, their governor, and/or in letters to the editor will influence ORSANCO to back away from their decision to disengage their pollution control standards setting processes.
Please comment and send letters! You can see a sample letter, written to Governor Jim Justice of WV below. You will also see a list of contact links to Governors of all the states in the ORSANCO compact.
Sample letter (feel free to excerpt some segments of this letter):
Dear Governor Justice:
All my life, I have been dependent upon the Ohio River for my tap water, as has my entire family—some of whom live in the Huntington area, and some in the Parkersburg area.
I am aware that since the 1940s the Ohio River Valley Sanitation Commission (ORSANCO) has set pollution control standards (PCS) for discharges into the Ohio River. Some of these standards go beyond what US EPA and state regulatory agencies require.
I am also aware that the ORSANCO Commission met in June, and decided: "To the extent that all member states are operating under programs appropriate for implementation of the federal Clean Water Act, the Commission may conclude that it need not continue the triennial review process related to the water quality criteria (and related provisions) of the Pollution Control Standards."
I strongly disagree that state-level pollution control standards are adequate, for the following reasons:
Several states rely on ORSANCO's uniform standards—set by representatives from all member states in the Ohio River watershed—and adopt them as their own. If ORSANCO no longer sets these standards, those states will have to expend the financial resources to develop standards. Can WV afford this?
If all Ohio River states have to develop their own standards, then the situation can lead to interstate conflicts when an upriver state has weaker standards that lead to increased pollution treatment costs for a downriver state. This would, inevitably, lead to litigation among the states, and problems with communication and enforcement of pollution standards. Can WV afford these kind of lawsuits?
Waste products and leaks from the fossil fuel industry are causing more harmful pollutants to enter the watershed by the day, and this will get worse if the proposed Appalachian Storage Hub gets built. This kind of Interstate project is exactly what ORSANCO was originally developed to monitor and manage; it seems very wrong to get rid of a pollution control standards setting and monitoring system that works for the good of all along the River at this time. 
According to ORSANCO's own statistics, 5 million people—including me and my family—rely upon water sourced from the Ohio River for our tap water. We need that water to remain as protected and well monitored as possible. If ORSANCO stops their pollution control standards setting and review processes, I am truly afraid that the quality of our tap water will be degraded to the point it is unhealthy for human consumption. This would be devastating to me and my family; please protect our water and advise the WV ORSANCO Commissioners to vote against the so-called "option 2″— which will essentially stop all of ORSANCO's pollution control standards setting and monitoring roles within the entire Ohio River watershed. The Commission needs to find a way to maintain and/or improve their pollution control standards setting roles within the Ohio River Watershed, which we all depend upon. The future health of our state's citizens and economy depends upon a healthy water system.
Thanks for your time!
-sign with your full name and place of residence
Contact links for all the Governors in the ORSANCO Compact:
Please share this post with your friends and acquaintances in the other states listed here.
A final decision regarding Ohio River Pollution Control Standards is expected at the ORSANCO Commission meeting, scheduled to be held October 2-4 in Lansing, WV (at Adventures on the Gorge). If you would be interested in attending this meeting as a concerned citizen, please contact Robin Blakeman.