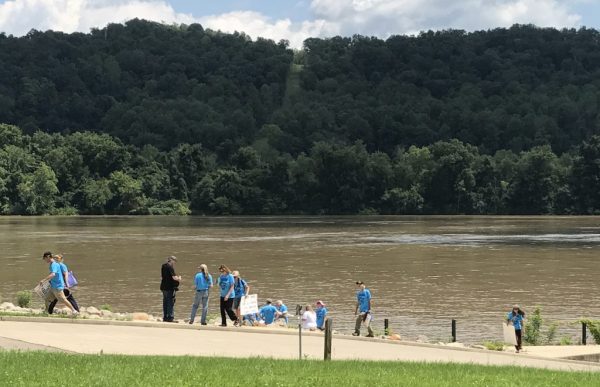 Like the folks above at last year's Ohio River Rising event, we urge you to take action for the Ohio River. Please submit a comment, plan to attend a July 26 public hearing, and/or write a letter to the editor of your local paper. If you need a ride to the hearing, please contact Robin Blakeman at robin@ohvec.org. Comment on what you ask? Here are the details: 
ORSANCO—the Ohio River Valley Sanitation Commission—met in June in Louisville, and reached the decision that follows:
In recognition of the successes of the federal Clean Water Act and the related state water pollution control programs of member states, the Pollution Control Standards (PCS) should be revised by adding a provision that recognizes that water quality standards and criteria, as well as mixing zone requirements, and other provisions of the PCS are being adequately addressed by member states in accordance with programs appropriate for implementation of the federal Clean Water Act. To the extent that all member states are operating under such programs, the Commission may conclude that it need not continue the triennial review process related to the water quality criteria (and related provisions) of the PCS.
We strongly disagree that state-level pollution control standards are adequate, and we encourage all who agree with us to write comments and either deliver them in person, at a July 26 hearing in Cincinnati, or submit them in writing, using this information:
Your name and address must accompany all correspondence.
Mailed comments should be addressed to:
     ORSANCO
     Attn: PCS Comments
     5735 Kellogg Avenue
     Cincinnati, OH 45230  
Emailed comments should be sent to: PCS@orsanco.org. Email attachments will not be accepted in order to protect data systems integrity. All comments and information should be included in the body of your email. 
Please contact ORSANCO directly at 513-231-7719 for instructions on submitting technical and scientific information or data since email attachments cannot be accepted.
Below are some talking points you may use to craft your comments. Please consider personalizing your comments with your own personal story of connection with the Ohio River, concern over your family's tap water becoming toxic, etc.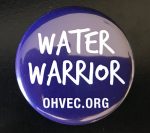 These talking points and your personal stories may also be turned into letters to the editor; please consider writing one during or even shortly after the comment period (now through August 10). We know that ORSANCO has been swayed by public outcries in media publications in the past. The bottom line is that we can't afford for the Ohio River to become anymore polluted than it already is, and that is highly likely if the ORSANCO commission abdicates its pollution control standards setting role.
ORSANCO sets baseline standards for many chemicals that are discharged into the Ohio River at hundreds of points along the 981- mile-long river. Some of these standards go beyond what U.S. EPA and state regulatory agencies require. 
Talking Points
Several states rely on ORSANCO's standards and adopt them as their own. If ORSANCO no longer sets these standards, those states will have to expend the financial resources to develop the requisite standards.
ORSANCO should be setting uniform standards with the collective input of all basin states.
If all Ohio River states have to develop their own standards, then the situation can lead to interstate conflicts when an upriver state has weaker standards that lead to increased pollution treatment costs for a downriver state. This would, inevitably, lead to litigation among the states.
For more information, you may take part in a free webinar hosted by ORSANCO on either July 12 at 3:00 p.m. or July 19 at  6:00 p.m. 
If you want to participate with audio only, call 1-513-621-0220 or 1-937-619-0110, and enter passcode 453175 at the above times and dates. For instructions on how to participate so you see as well as hear the webinar, refer to this pdf.
The public hearing takes place at 6:00 p.m. on July 26 at the Holiday Inn Cincinnati Airport. 
The deadline to send in written comments is August 20. 
On October 4, at a meeting in Lansing, WV, ORSANCO will make its policy decision. 
ORSANCO has been doing work to ensure consistent water quality standards on the Ohio River for six decades:
Since 1948, ORSANCO and its member states have cooperated to improve water quality in the Ohio River Basin, ensuring the river can be used for drinking, industrial supplies, and recreational purposes; and can support a healthy and diverse aquatic community. ORSANCO operates monitoring programs to check for pollutants and toxins that may interfere with specific uses of the river.
It would be a real shame to loose the coordinated ability of this organization to set Pollution Control Standards throughout the Ohio River watershed. 
Please see my earlier post on this issue for more background: Less or More Ohio River Pollution Control Standards?
As noted above, please do submit a comment, plant to attend the hearing on July 26, and/or write a letter to the editor of your local paper. If you need a ride to the hearing, or if you need help with your comments, please contact Robin Blakeman at robin@ohvec.org.