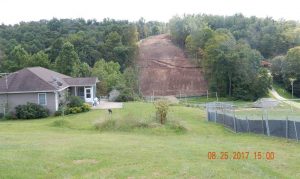 Read WV Rivers Coalition fact sheet on the MXP's stormwater permit and submit your MXP comments to WVDEP by Friday, December 22, 2017. Thanks WV Rivers!
The official public comment period on the Stormwater Permit WVR310872 for the proposed large-diameter, high pressure pipeline Mountaineer Xpress Pipeline is open. Read the notice here:
https://apps.dep.wv.gov/MLists2/Archive/view_text.cfm?ListID=1&MessageID=23614
Update: per DEP, you have until December 22 to comment.
You can submit comments via e-mail to dep.comments@wv.gov. Be sure to reference WVR310872.
DEP says:
Columbia Gas Transmission, LLC, (Columbia) proposes to construct and operate the Mountaineer XPress Project (Project) consisting of approximately 170.9 miles (3,778 acres) of various diameter pipelines, modifications to three existing compressor stations, the construction of three new compressor stations, three new regulating stations, and a number of other modifications at various aboveground facility sites.
This proposed project is a Columbia Gas/ TransCanada project. TransCanda is in the news right now because of a 210,000 gallon leak Keystone pipeline (running from Canada across the Great Plains) in South Dakota.  
As the Washington Post notes, "The spill on the first Keystone pipeline is the latest in a series of leaks that critics of the new pipeline say shows that TransCanada should not receive another permit."
Hearings are set for December 11 at the Doddridge County Park and one on December 12 at Ripley High School in Jackson County. These hearings were set even before DEP officially released the public comment notice in newspapers in impacted counties: Marshall, Wetzel, Tyler, Doddridge, Ritchie, Calhoun, Wirt, Roane, Jackson, Mason, Putnam, Cabell, Wayne, and Kanawha.
The DEP public notice clearly states:
Any interested person may submit written comments on the site registration permit application and may request a public hearing by addressing such to the Director of the Division of Water and Waste Management within 30 days of the date of the public notice.
OVEC felt there should be a hearing in Cabell, Wayne, and/or Putnam counties, and DEP urged us to get in our request right away, even before the public notice was officially published. We made our official request a couple of days ago, and haven't heard back yet.
By already setting hearings in Doddridge and Jackson counties, before the public notice was even officially published, but neglecting our region, DEP made unacceptable assumptions. And why the urgency to get that hearing request in, when the public notice offers us 30 days in which to request a hearing?
To support OVEC's organizational request for a public hearing on MXP's stormwater permit, we asked some of our members and supporters to ask DEP for a public hearing.
Here's an excerpt from one individual's request to DEP:
I have been following the various pipeline developments, the ACP and MVP primarily because of my interest in the Allegheny Trail and karst regions in the eastern part of the state, and the MXP because it is within my home base area of interest. 
I am requesting that at least one additional meeting on Stormwater Permit WVR310872, besides the Jackson County and Doddridge County meetings, be held in one of the three western countie:s Cabell, Putnam, or Wayne. 
The area made up of these counties, especially in the vicinity of Teays Valley and Kanawha River Valley, has a higher human population than the other areas where the MXP is proposed to cross.
Pipeline construction would add to already high sediment loads in the streams draining urban, suburban, and exurban areas in these counties. 
The writer noted that populations of freshwater mussels decline in streams that are subject to sedimentation: "Additional high sedimentation from pipeline construction and operation into these streams with freshwater mussels is of great concern." 
You can ask for a hearing in Cabell, Putnam and/or Wayne counties, too. Please show DEP there is citizen concern in our area and remind the agency it needs to listen to the grassroots. If you would like to some talking points to use in writing your request for a public hearing, see below.
Director, Division of Water and Management, DEP
ATTN:  Sharon Mullins, Permitting Section
601 57th Street SE
Charleston, WV  25304-2345
and may be e-mailed to: dep.comments@wv.gov; edward.f.maguire@wv.gov; john.m.s.king@wv.gov; Dennis.O.Stottlemyer@wv.gov; Jon.M.Bosley@wv.gov
Here's info you can use to make your request:
Subject: Request for hearing re: MXP Stormwater Permit WVR310872
I request that DEP host a public hearing regrading MXP Stormwater permit WVR310872 in a western county of the state, either in Putnam, Wayne or Cabell, or, ideally in all three counties so that people in living in these areas may express their concerns.
Locations for these hearings might include the town of Winfield in Putnam County; Huntington, Milton or Barboursville in Cabell County. A Huntington location might suit residents of Wayne County, as well as Cabell County. 
The proposed MXP would cross major state waterways in my region, such as the Kanawha River, Mud River, Four Pole Creek, Twelve Pole Creek. Its construction would impact major transportation routes in these counties, all of which have a fairly dense population compared to some of the other areas where the proposed MXP may be built. For these reasons, it is imperative that DEP host a hearings or hearings for people living in Putnam, Wayne and Cabell counties.
Thank you for your consideration, 
Signed, You!