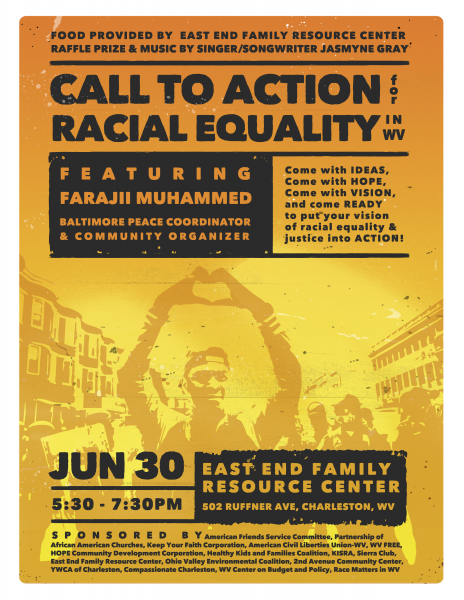 In response to the persisting violence against people of color in cities and towns around the country and the deep and systemic racial disparities that exist in our state, West Virginians from all race backgrounds are coming together to ensure that every person in our state has access to opportunities and is safe from violence and discrimination. Please join student and community organizers for this not-to-miss event!
Join us on Tuesday, June 30 from 5:30 – 7:30 p.m. at the East End Family Resource Center (Roosevelt Neighborhood Center), 502 Ruffner Avenue Charleston, WV.
The event will feature Farajii Muhammed, a community organizer from Baltimore who has been working alongside faith leaders, students, and community members on a racial justice agenda in Baltimore. You can see Farajii interviewed on CNN here: http://youtu.be/zFY2zr3_RhM
We will also hear a summary of facts from a report on racial disparities recently released as well as policy initiatives that are already in motion.
Most importantly, participants will brainstorm concrete changes we think are most needed in our community and will be invited to continue working on them as part of a racial justice agenda moving forward. This meeting is a beginning not an end.  Come with ideas, come with hope, come with vision, and come ready to put your vision of racial equality and justice into ACTION!
There will be food (with a huge thanks to East End Family Resource Center), a performance by singer/songwriter Jasmyne Gray, and a raffle prize.
Sponsored by American Friends Service Committee, Partnership of African American Churches, Keep Your Faith Corporation, American Civil Liberties Union-WV, HOPE Community Development Corporation, Sierra Club, East End Family Resource Center, WV FREE, Healthy Kids and Families Coalition, 2nd Avenue Community Center, Compassionate Charleston, Race Matters in WV, OVEC and more being added every day!