The Buffalo Creek Miracle Baby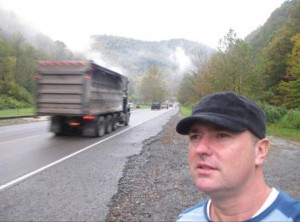 This is possibly the slowest holocaust In history. It's actually quite brilliant. They've managed to put the gas chambers directly in your house. The best way to hide a chamber is by placing it in plain sight. We all know that from the hidden government bunkers at The Greenbrier Hotel. Unfortunately the site this time is your own home. There's probably a large seam of coal somewhere that they want and can't get it because too many people live on it. Or new businesses are starting to see the educated work force WV has to offer and they simply want that option and mindset OUT. So once again they could be using the same play book and the same formula as Buffalo Creek disaster and since it was successful for them they decided again to just "Let the dam break!" This time the dam was a storage container. What will the next "dam" be?
They did the same thing after everyone was displaced after the flood. They wouldn't let some families and communities return to certain areas deemed worthy to the industry. They even went ahead and built structures on their land so families couldn't return even if they wanted to. We were relocated to Accoville holler and lived in a FEMA trailer. But years later we finally got back home.
Just like they knew the dam on Buffalo Creek wasn't structurally sound, they also knew the container holding the chemicals wasn't safe either. You MUST consider the likely possibility that when a company has a structure that they know is not safe and has a strong possibility of failing, THEN willingly choose NOT to fix it…. Well, then you HAVE to consider the strong possibility that they may have wanted it to happen for specific reasons. Most of us rarely think about what the value could possibly be in a disaster because compassionate people would never see the value of a planned "natural" disaster.
It's not illogical to think this way. Just look how fast the bankruptcy filing happened. That happened fairly quickly. If they were so busy helping to fix the current situation, then how'd they have the time decide on that loophole scam they ran?  It was legal, but still a scam.
The thing that bothers me the most is when you try and tell SOME people that they're being played… They always respond with… "Are you basically calling me stupid?" The industry loves that mindset in people. Those few people are battling on the front lines of the enemy and they don't even know they're there.
I just want people to consider the possibility that accidents are not always accidents. And just because you survived this does not mean you've actually survived it. The effects are still unknown and may not take effect on your individual health for a few or several years.
The best way to detox your water is by not allowing any toxins to be put in it. The best way to detox your body is also by not allowing any toxins to be put in it. So STOP ALLOWING IT. WV is OUR state. It is NOT theirs. They are simply a guest. Any good and respectable house guest knows that they should respect and appreciate the owners' hospitality and belongings. Sometimes you just gotta ask certain guests to leave. Simply because you know the clean-up is going to be all on you and not them. It's just rude.
Start planting new seeds because they've got us all currently living off the same tree.