Did you get a copy of Don Blankenship's self-published-from-prison manifesto? I did. Perhaps because she wants to punish me for some unknown reason, OVEC's Vivian Stockman asked if I would review the booklet for this blog. Before the review, here's a little background.
Don Leon Blankenship grew up hardscrabble in West Virginia. He became an accountant and managed to ascend the ladder of coal country success to become the CEO of a large coal mining company, Massey Energy, in 1992, where he emphasized production. This made him very rich, and not only by Appalachian standards. He used his wealth to influence politics, and this made him infamous throughout the state. As an example, some believe that he bought an election for a Republican State Supreme Court judge who was vastly outranked in experience by his Democrat opponent. Apparently, Blankenship mounted what some would call a slanderous campaign against the Democrat, because the coal baron feared the judge would rule against him in a $50 million lawsuit. The lawsuit alleged that Massey illegally caused a rival coal company to go bust. The Republican judge ruled against the suit, but, after appeals, the case is still pending.
He has also lobbied vociferously against climate change legislation, saying, "I don`t believe that climate change is real." He has given financial support to the National Republican Senatorial Committee. Actions like these contributed to his (partisan) reputation as a hated and feared figure. By his own accounting, during his life in the coal industry, he has been issued death threats, his office was shot into, he had urine flung at him, and his cars were vandalized—with him still inside. Yet, he seemed untouchable.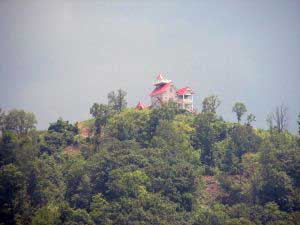 Then, while Blankenship was CEO of Massey, came the Upper Big Branch Mine (UBB) explosion of April 5, 2010. Twenty-nine people died and one was seriously injured in the worst mining tragedy in nearly 40 years. The explosion brought Blankenship, Massey, and mine safety into the national spotlight. The tragedy caused his downfall, and he was forced into retirement. Although he was paid tens of millions of dollars in salary, his generous retirement package included a cash payout of $12 million over two years, a secretary, an office, a truck, an option to purchase mine-owned land that surrounds his residence in Sprigg, WV (left), an easement through subsidiary-owned land, and access to Massey documents he could use to litigate his defense or in investigations regarding his employment.
Described by Rolling Stone magazine as "The Dark Lord of Coal Country," Mr. Blankenship cultivated a reputation of parsimony: he would try to squeeze a dollar from a dime. He was also tough on employees, keeping them in a state of fear by threatening to terminate anyone who did not work as hard as he thought appropriate, to keep increasing production. Massey mines produced about 40 million tons of coal annually; I wonder how much of that was obtained by blowing mountains to smithereens in the Mountain State? Massey was the largest coal producer in Central Appalachia before it was sold as the result of the UBB investigation. This made
Blankenship an exemplar of the worst of American capitalism: valuing profit at any price, and without heart.
Mr. Blankenship`s work ethic, noted by prosecutors at his trial, enabled him to save money by not enforcing certain mine safety standards. The standard that would keep coal dust levels low in the dusky shafts and tunnels was breached. Although Blankenship denies this, it was alleged that rising levels of coal dust triggered the mine explosion at the Upper Big Branch Mine.
Although Mr. Blankenship was acquitted of felonious crimes that would remove him from society for some 30 years, his misdemeanor conviction, for `conspiring to willfully commit mine safety violations led to a sentence of one year behind bars, one year of parole, and a fine of $250 thousand dollars (none of which went to survivors of the victims). At his trial, however, he is quoted as saying, "It is important to me that everyone knows that I am not guilty of a crime." He claims that seeping methane and not coal dust levels caused the explosion. He alleges he was railroaded and made a scapegoat for the incompetence of the Mine Safety And Health Administration (MSHA), for denying the use of a larger ventilation machine proposed by Massey that would have reduced dust levels in the mine.
Now to the Manifesto Review
Blankenship's refusal to accept his conviction has taken shape in the form of a 67 page self-published booklet written in prison, and mailed to 250,000 people, to expose what he contends are lies about himself, as well as what he contends are errors in the proceedings at the trial which resulted in his conviction. The booklet is a rationale for his innocence. In it, Blankenship claims that he was falsely accused, falsely arrested, and falsely imprisoned for committing a misdemeanor. He asserts that discovery materials, which could have been used to exonerate him, were purposely withheld at the trial. Further, he believes that his conviction bodes ill for 'normal' executive decision-making, and considers himself a political prisoner. He considers the booklet to be about `freedom of speech and the right to a fair trial, both of which, he claims, were denied him.
So, what does one do when one believes he is wrongly convicted? Certainly, one appeals his conviction, as Blankenship is in process of doing. What else? Impugn just about everyone who may have played a part in his sense of injustice. In Blankenship`s case, the list is long, and includes President Obama, WV Senator Manchin, prosecutors Booth Goodwin and Steve
Ruby, MSHA Administrator Kevin Stricklin, Judge Irene Berger, key prosecution witness Bill Ross, and others. Even Hillary Rodham Clinton does not escape his wrath, for commenting on his sentence, that he 'got off easy.'
Blankenship`s defense includes a lengthy statement from Stan Suboleski, PhD, a mining engineer, and quotes from the Upper Big Branch Safety Director, and a MSHA district manager, in addition to several 'coal people' testimonials ranging from a coal industry attorney to a coal
miner, all attesting to Massey Energy`s concern about safety. Although he was criticized for not budgeting enough miners to enforce safety regulations, Blankenship states that he actually had more miners working at UBB than his budget mandated. And, he cites Massey as the only coal company ever to have won three National Mine Association Sentinels of safety awards in the same year (2009).
This may seem a rosy picture, but Massey Energy has been cited 1,342 times for safety violations since 2005, for a total of $1.89 million in proposed fines. It has contested more than half of these. There were about 50 reported violations at UBB in March, 2010, the month before the tragic explosion.
There are brief technical discussions of the determinants methane and coal dust, ventilation systems and 'long walls,' which a lay reader may find incomplete in terms of understanding these as issues of defense.
Blankenship entered prison in May, 2016. He filed a final appeal motion to reverse his conviction on September 6, 2016 while serving his sentence. A public hearing of this appeal is scheduled to be heard on October 26 of this year. His prison sentence is scheduled to be completed on May 10, 2017.
As Blankenship sits, brooding and rueing in his cell, you might wish to write him to share your thoughts about UBB and his claims of innocence:
Frank E. Grant, Ph.D. is an OVEC member who occasionally reviews books for this blog, and who really wasn't being punished when asked to read the Blankenship diatribe. Or so we say.