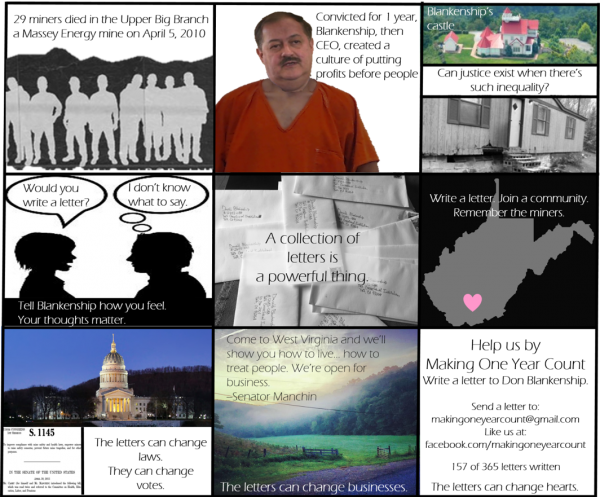 OVEC is thrilled to support Making One Year Count, the letter-writing campaign to Don Blankenship while he is in prison. We are continually inspired by the work and dedication of community members working to create safer work places, to empower their fellow citizens, and to clean up West Virginia.
Ann Bybee-Finley, a native West Virginian, from Hurricane, started the letter-writing campaign. The goal is to send Don Blankenship one letter each day of his one year sentence. The campaign has collected about 157 letters so far.
OVEC staff are set on writing their own letters to Blankenship. If you haven't already written your letter, will you join in? Remember the miners, and think about how you can shape the future of West Virginia. Help the campaign reach the goal of Don getting a letter a day! Send your letters to makingoneyearcount@gmail.com.
Ann reports that Blankenship is reading the letters, which can be about anything, and which can be made public, if you grant permission for the campaign to share your letters. will be shared if given permission.
Ann says, "We hope that writing the letter, long or short, will empower people to help hold our leaders more accountable in West Virginia. What would you say to Don Blankenship? We have his undivided attention!"
Here's some of the news coverage the campaign has received so far:
Huffington Post: A Coal Baron Only Got A Year For His Crimes. One Woman Will Make Sure Every Day Of It Counts.
WVNS-TV 59: Former miner Tommy Davis responds to Blankenship letter campaign
Charleston Gazette: Blankenship letter-writing campaign rakes in more than 140 letters