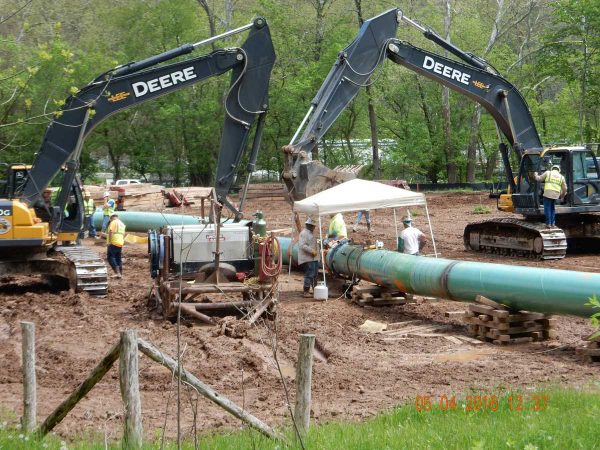 Read Part 1 here, Part 2 below.
Currently, the water quality of the Ohio River is being threatening as result of the boom of oil and gas drilling in the Tri-State region. This industry has pretty much been given a green light by government agencies such as the Federal Energy Regulatory Commission (FERC) to use the river and the surrounding watershed as it sees fit.
There are no less than nineteen newly proposed pipelines in the Appalachian region and the industry will do what is necessary to get the fracked oil and gas out of the area to export terminals. Several of these pipelines will go under the Ohio River and given the extensive list of pipeline explosions and accidents in the United States, this scenario could result in massive contamination of the drinking water source for millions of people. (Ed note: There are nine major pipelines proposed for Huntington and surrounding counties.)
The process of horizontal hydraulic fracturing also creates enormous amounts of wastes. These wastes contain thousands of industrial chemicals like benzene, and radioisotopes. Radium-226 is naturally found in Marcellus shale radiation, and in core samples can be up to 25 to 30 times background levels. During the process of fracking, water is injected several miles down into the shale deposits to break up the shale.  This water dissolves the soluble radium-226. When the water is withdrawn from the wells, it contains high amounts of radioisotopes. 
In the spring of 2016, the U.S. Coast Guard approved the barging of hydraulic fracking wastes on the Ohio River using a case by case approval process. The Coast Guard also decided to withhold from public knowledge any information on the chemicals contained in the wastes. The wastes may end up in landfills, water treatment plants or in waste injection wells. Currently, Ohio has no regulations in place to oversee these wastes and there are no Federal regulations regarding frack wastes.
As the watershed that feeds the Ohio River continues to be inundated with fracking wells, more contamination will enter the river and its tributaries. I believe we are quickly approaching a tipping point when we will have to decide if we want the Ohio River to be a source for drinking water, recreation and fishing or merely a disposal site and transportation source for the oil and gas industry. 
Dr. Randi Pokladnik is a long-time OVEC members. Randi is from eastern Ohio and has lived for more than 60 years in the strip-mined coal counties of Jefferson and Harrison. Unfortunately, deep shale gas fracking activities have become the latest way to destroy these beautiful areas.