News came yesterday, October 19, that "West Virginia public health officials have lifted an advisory warning of potential risks associated with an algae bloom in the Ohio River and some of its tributaries." The advisory was issued September 4.
The algae bloom was unprecedented in size, carpeting more than 600 miles of waterway.
On September 5, Wetzel County fracktivist Bill Hughes sent this e-mail below to staff at FracTracker Alliance and OVEC with the subject "Ohio River blue-green algae":
In the news around here the past week or two and been the widespread algae on/in the Ohio River. Today when in New Martinsville, I did not have to look very far for it. See attached photos. The newspaper had a large article about our WVDEP being concerned about it.
Therefore I have concluded that I think I know the major difference between algae and Radium 226. The big difference: we can see the algae, thus the state has some concern. 
– Bill
Note that radium 226 is one of the radioactive elements in Marcellus Shale drilling waste, which goes to landfills, which leaches into groundwater and streams, which runs to the Ohio.
Bill, who is also chairman of the Wetzel County Solid Waste Authority, explains that the drilling waste (called drill cuttings) trucked into municipal solid waste (MSW) landfills arrives in massive quantities. More than one million tons of drilling waste is already buried in WV landfills; Wetzel County's MSW alone has more than 500,000 tons. The chart below is lifted from a DEP report titled Examination of Leachate, Drill Cuttings and Related Environmental, Economic and Technical Aspects Associated with Solid Waste Facilities in West Virginia. Note that the figures are only for 2013 and 2104!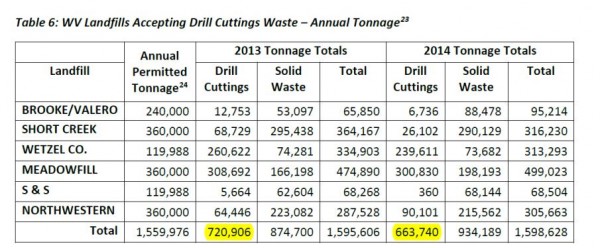 MSW landfills are designed for municipal waste, not radioactive waste. While the landfills do have liners, it is known that landfill liners will eventually leak; we just do not know when, or how much. We also do not know what could then be done about it when it does occur. Radium 226 has a half-life of 1600 years — it will definitely outlast any plastic landfill liner that is currently made. And radium 226 also creates radon gas. We do not test for radon at landfills.
For decades, geologists have referred to the Marcellus Shale as highly radioactive. We have also known that the leachate coming out of the landfills contains radioactive isotopes and landfill operators at local, routine MSW landfills have no means to remove the water soluble radium 226. Four landfills along the Ohio River bury drill waste products. The liquid waste from these landfills will eventually get to the Ohio River, and that means it will reach the drinking water intakes for Huntington and Cincinnati.
If you, apparently unlike the higher-ups at our DEP, are concerned about threats to the Ohio River, you may want to get involved with the Ohio River Citizens' Alliance (ORCA), an alliance of grassroots groups from multiple states in the Ohio River Basin. ORCA is primarily concerned with the effects of oil and gas fracking and oil and gas industry waste disposal in the Ohio River watershed.
Millions of people — including many WV, OH and KY communities where our members reside — depend on this body of water for their tap and recreational water supply, as well as for food from commercial and sport fishing.
OVEC has been an initiator in forming this group, supplying both financial and staff-time resources. ORCA's coordinators are OVEC's Robin Blakeman and Teresa Mills, with Buckeye Forest Council and the Center for Health, Environment & Justice.
Future goals and actions of the group will be determined by those who get involved, so get involved! Contact Robin Blakeman at 304-522-0246 or robin@ohvec.org.