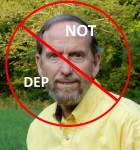 That's no DEP employee, that's Bill Hughes, who has lived in Wetzel County, WV for more than 36 years.
He is a member of Wetzel County Action Group, active in monitoring Marcellus Gas activities in Wetzel and surrounding counties. His work includes assisting and educating people who suddenly find "unconventional" gas extraction activities (fracking-related) disrupting their lives, sometimes tragically. He educates local officials and community members in other states, too, where Utica or Rogersville shales may be the problem. He also serves as a media liaison for journalists interested in covering issues related to deep shale exploration and extraction.
Bill worked part time for OVEC from March to October in 2014. We secured more funding for his work in March this year, so he's currently working part time with us. Since July, 2014, he's also working part time for the FracTracker Alliance.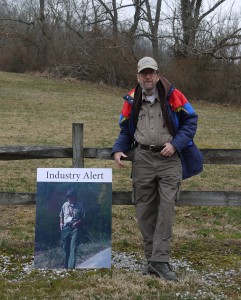 Oil and gas industry lobbyists are not fond of Bill Hughes.
In the photo at right, Bill stands beside a poster, enlarged from a surveillance photo taken of him as he monitored a fracking site. Someone left the poster on a stand in the WV Senate Judiciary Chamber, after a meeting on multiple DEP rule changes during the December 2014 Legislative Session.
Below are photos of two handouts that were also left in the Senate Judiciary room that day. Regarding the text in those alerts, Bill dresses in khaki a lot; he's not impersonating a DEP employee, rather he is personifying a citizen watchdog. Also, he only photographs from public roads or from private property where he has the landowner's permission to enter. He does not have a telephoto lens, very expensive or not. Maybe we should add that to our equipment wish list.
We'd rather that the industry was putting out alerts about its bad practices, rather than about watchdog citizens.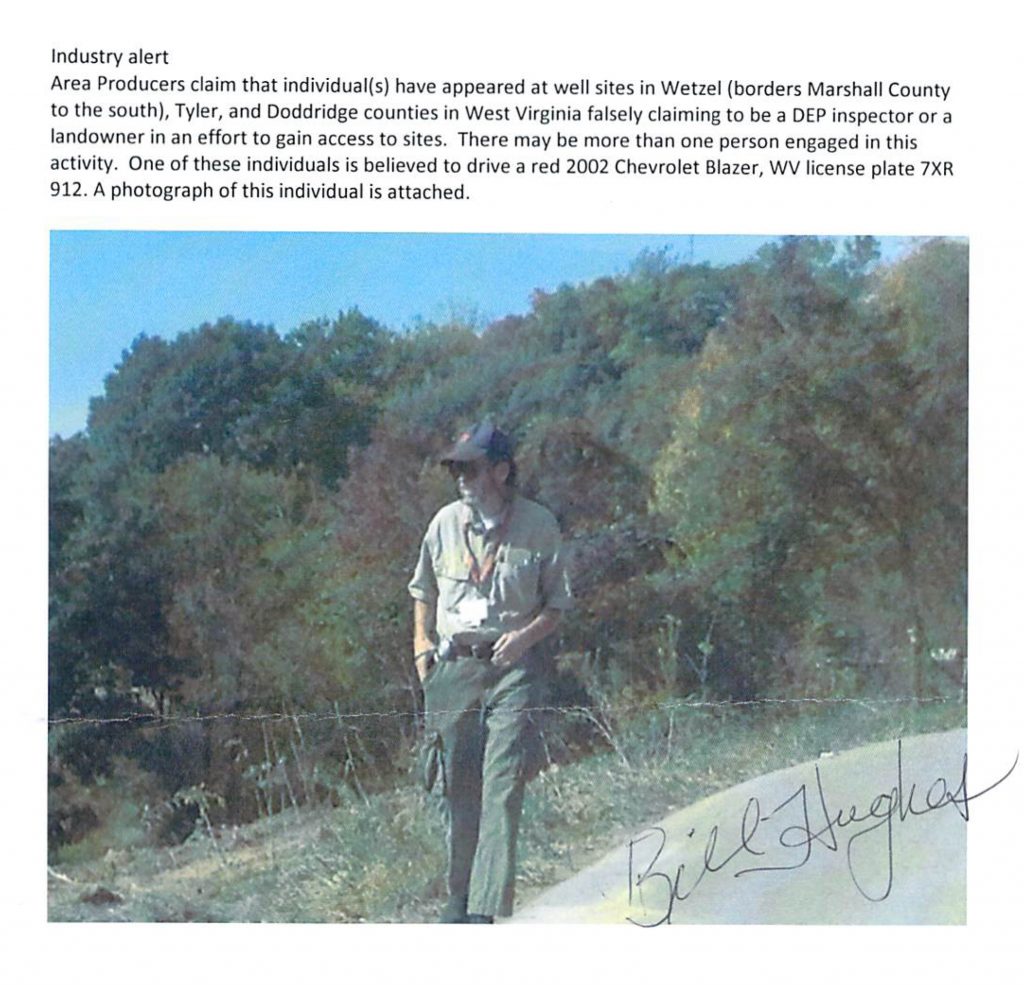 Note that the Corky in the "More Sightings" memo is Corky DeMarco, the executive director of the West Virginia Oil and Natural Gas Association.
Bill's pretty used to being surveilled as he monitors the goings of fracking-related activities. Below, at left, a Statoil guy on the Henderson pad in Wetzel County takes a picture of him taking a picture. Below, at right, ditto that, only this time it's a Gastar Guy.
Anyway, we hope things are all cleared up by now. Bill is not a DEP employee. He's doing what he has a right to do. Not so sure if we can say that for the oil and gas industry at the moment.