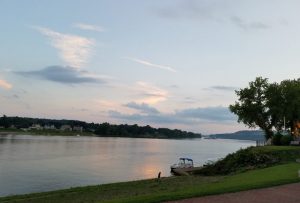 Next week, from October 2-4, the Ohio River Sanitation Commission (ORSANCO) will be meeting in Fayette County, WV to determine the fate of its role in setting and monitoring pollution control standards within the Ohio River watershed.
If you live in West Virginia or southeast Ohio and want to join OVEC in attending the ORSANCO Commission meeting next week, please contact Robin Blakeman as soon as possible at  robin@ohvec.org.  
We have detailed these issues in previous blogs here and here. Despite thousands of citizen and grassroots group comments discouraging the action, the Commission is planning to vote on a resolution that would remove ORSANCO from several important pollution control setting and monitoring roles they have performed for decades. 
This week is our last chance to put pressure on the Commissioners to consider other options, besides complete withdrawal from their 70+ years of pollution control standards setting and monitoring roles within the Ohio River watershed. This is what is at stake:
dramatically increased legacy pollutants, like mercury, aluminum and ammonia.
removal of "mixing zone" standards.
discontinuation of ORSANCO's "triennial review" processes.
lack of any attention to oil and gas industry pollutants.
confusion and potential legal actions between states as to who has jurisdiction over pollution occurring in various parts of the River where there are shared state boundaries.
the tap water for about five million people.
As those of us who live in the Ohio River Valley are well aware, our river is both a beloved source of recreation and sustenance—from our tap water sources—and an already polluted body of water. Every time there are heavy rains, pollution increases; we know that. We have, however, had the benefit of ORSANCO's region-wide interstate oversight since the 1940s; it is unimaginable to think what will happen to our Ohio River if we loose that. 
Please consider sending a message to your mayor and/or governor this week, encouraging them to speak with, or send a statement to the ORSANCO Commissioners that represent your state. Citizen group leaders recently obtained a statement from the Mayor of Evansville, Indiana. This can be used as a guide to language which other community leaders could use. You can find contact information for the governor of your state here.
You could also engage your community leaders by posting this blog, or a message from you, to social media sites and tagging them. Here are some twitter handles and instructions that could be useful:
Tag your local governor every time on twitter: for amplifying (linking) to letters to the editor, news articles, op-eds, etc. – as well as any statements from Mayors or other elected officials. Make these visible to the chief executive of the state from which they were issued:
Illinois Gov. Bruce Rauner @GovRauner
Indiana Gov. Eric Holcomb @GovHolcomb
Ohio Gov. John Kasich @JohnKasich
Kentucky Gov. Matt Bevin @GovMattBevin
Virginia Gov. Ralph Northam @RalphNortham
West Virginia Gov. Jim Justice @WVGovernor
Pennsylvania Gov. Tom Wolf @GovernorTomWolf
New York Gov. Andrew Cuomo @NYGovCuomo
Include ORSANCO to let them know that the public is paying attention to this issue: @ORSANCOchannel
Expand the conversation with the following hashtags: #OhioRiver #CleanWater
Include a photo if you can: a photo of people in a meeting; Ohio River photo, etc. to increase engagement.
Remember to include a link so that people can find out more: This can be a link to a blog; an action alert page; news article; etc.
Here's a sample tweet:
We need @WVGovernor and ORSANCO commissioners to stand up for the #OhioRiver! Please reject attempts to take away #CleanWater protections that have been in place for 60 years. (insert a link to this or another blog) @ORSANCOchannel
We need @WVGovernor & commissioners to stand up for the #OhioRiver! Please reject attempts to take away #CleanWater protections that have been in place for 60 years. https://t.co/3rkZfmKMhw @ORSANCOchannel pic.twitter.com/37ipEcqMAZ

— OVEC_WV (@OVEC_WV) September 26, 2018