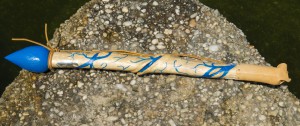 This fall, a baton that symbolizes water, mountains and life itself, will be passed by relay along the entire 981-mile length of the Ohio River. Participants will move the baton along the river by canoe or kayak, or along the river's banks by foot, bicycle, rollerblade or skateboard — by any human-powered means.
The Great Ohio River Relay begins with a noon rally on Saturday, September 14 in Pittsburgh, PA, the birthplace of the Ohio River. From there the baton will be carried through six states to arrive in Cairo, IL, where the Ohio joins the Mississippi River, sometime in early October.
The Wheeling Water Warriors organized the relay to raise awareness about the environmental and human health impacts of deep shale gas fracking and, in particular, the proposed barging of toxic, radioactive fracking wastewater on the Ohio River.
More than five million people rely on the Ohio River for their daily drinking water.
Wheeling, WV artist Orion Stephan made the baton that The Great Ohio River Relay participants will carry.
The baton is 24 inches long and made of lightweight water maple. Stephen retained the natural curves in the wood to represent the mountains that surround the river in some places, and in others, the islands which emerge from its waters. Blue lines carved into the wood represent the Ohio and its tributaries. A water droplet at the end of the baton points the way to lead the relay on.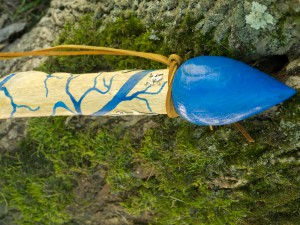 Stephan added silver renderings of a turtle, fish, and frog to the baton, to represent some of the animals which depend on the river for survival. He fashioned a leather thong so that relay runners can easily carry the baton.
Relay participants will also carry a gold coin, which the last carrier will toss into the confluence of the Mississippi and Ohio rivers. Tossing a gold coin into a rivers is a tradition which some cultures believe brings good luck, according to Wheeling Water Warriors member and relay coordinator Robin Mahonen.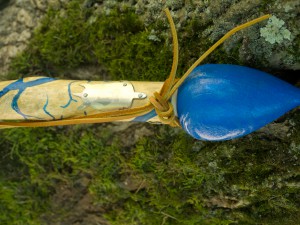 High resolution versions of any of the photographs here, all taken by Vivian Stockman, are available by e-mailing vivian@ohvec.org.