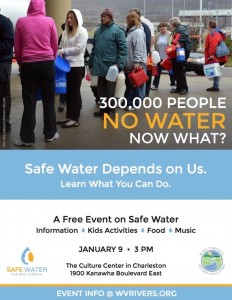 West Virginia Rivers Coalition and 21 partners, including OVEC, will host a free public forum on how citizens can get involved in drinking water protection, January 9 at the Culture Center in Charleston. The event, which coincides with the second anniversary of the Freedom Industries' chemical leak, focuses on how the public can help shape "source water protection plans" that water utilities are required to submit to the state.
The event features exhibits by agencies and nonprofit organizations; free food, music, and kids activities; and an entertaining game of "Drinking Water Jeopardy" based on the popular game show and open to everyone to play. A free booklet on how to be involved in drinking water protection will be given to event attendees. Representatives from West Virginia American Water will provide an update on the development of its water protection plan.
"The water crisis made people realize drinking water can't be taken for granted," says Angie Rosser, executive director of the West Virginia Rivers Coalition. "Following the water crisis, a new law gives the public a voice in drinking water protection. This event is a fun way for people to learn how to get involved."
The law, passed in 2014 as SB 373, requires most public water systems across the state to submit a source water protection plan by July 1, 2016. The law also requires water utilities to involve the public in crafting the plans. The January 9 event in Charleston is the first of four regional forums WV Rivers Coalition is hosting to facilitate public participation.
Event details: January 9, 2016, 3:00 – 6:00 p.m. WV Culture Center, 1900 Kanawha Blvd., Charleston WV
Schedule of Events:
3:00 – 3:30 Introductory remarks from Dr. Rahul Gupta, Commissioner of Bureau of Public Health
3:30 – 4:15 Get Involved in Safe Drinking Water, WV Rivers Coalition & Downstream Strategies
4:15 – 4:30 Local Source Water Protection Planning Update, WV American Water
4:30 – 5:30 Open House – Exhibits, Activities, Music by FOOTMAD & Refreshments by Ms. Groovy's Kitchen
5:30 – 6:00 Closing Announcements & Door Prize Drawings
Participating Partners: WV Rivers Coalition, Advocates for a Safe Water System, agileAg, Birthplace of Rivers Coalition, Charleston Stormwater Program, Coal River Group, Create WV, Downstream Strategies, Kanawha Forest Coalition, Morris Creek Watershed Association, Ohio Valley Environmental Coalition, Sierra Club, St. Albans Stormwater Program, WV American Water, WV Bureau for Public Health Source Water Program, WV Citizen Action Group, WVDEP Make it Shine Program, WVDEP Watershed Improvement Branch, WV FREE, WV Greenworks, WV Land Trust, WVU Reed College of Media StreamLab, WV Rural Water Association
For event updates: www.tinyurl.com/safewater4wv
Citizens' Guide to Getting Involved in Drinking Water Protection: www.wvrivers.org/archive/SWPPToolkit.pdf