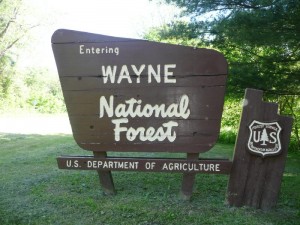 Allied groups* over on the Ohio side of the Ohio River are calling on you to call officials on behalf of the Wayne National Forest. On December 13, the Bureau of Land Management plans to auction off leasing rights to oil and gas companies for 1600 acres in the Wayne, Ohio's only national forest. 
This auction will allow the leasing and fracking of public lands. It comes at a time, when the BLM has canceled 25 disputed oil and gas leases in the White River National Forest in Colorado, and another 15 leases in Montana.
It also comes at a time when our allies have delivered, to BLM's headqaurters in Washington, D.C.,  more than 92,000 signatures on a petition asking the agency to stop the auction in the Wayne. It allso comes at a time when FreshWater Accountability Project and 26 other organizations (including OVEC) filed a protest letter to oppose BLM's proposed oil and gas lease auction.
So please make the calls! Here's what our allies have to say:
As the auction date approaches, still no word from the BLM. We received word from the Forest Service that it is now out of their hands. We also have not heard back from Rob Portman or Sherrod Brown's offices. So what do we do now? Call them! They need to know that we are here, there are a lot of us, and we are willing to contact them to Save the Wayne! Ask the Forest Service to request the pulling of the parcels. Tell Ohio's representatives to do the same. And tell the BLM that we do not consent to fracking in the Wayne!
Senator Sherrod Brown
202-224-2315
Senator Rob Portman
202-224-3353
White House
202-456-1111
U.S. Forest Service's Regional Forester for the Eastern Region Kathleen Atkinson
414-297-3765
Read an earlier post on this issue: 
*Some of these allies asking you to make thse call are part of ORCA, the Ohio Rivers Citizens' Alliance, as is OVEC; if your group works in the Ohio River Basin, considering learning more about ORCA and joining this coalition. Contact Robin Blakeman at robin@ohvec.org or 304-522-0246 for details. 
**Groups that signed the protest letter to BLM include:
FreshWater Accountability Project
RadioactiveWasteAlert.org
Columbus Community Bill of Rights
Frack Free Lake County
West Shore Faith Communities for a Sustainable Future
Cleveland Environmental Action Network
Sustainable Medina County
Concerned Barnesville Area Residents
Frack Free Geauga
Network for Oil & Gas Accountability & Protection
Concerned Citizens Ohio
Friends for Environmental Justice
Stewards of the Land
FaCT Ohio
Appalachian Mountain Advocates
Northwest Ohio Alliance to Stop Fracking
Guardians of Mill Creek Park
Guernsey County Citizens' Support on Drilling Issues
The Committee for the Youngstown Community Bill of Rights  
Frack Free Mahoning
Ohio Community Rights Network
OVEC – Ohio Valley Environmental Coalition
Concerned Citizens of New Concord
Ashtabula County Water Watch