I wrote this reflection on OVEC's history, below, before the passing of my beloved friend, OVEC founder Dianne Bady. After her passing, I wrote another piece that ran recently the Huntington Herald Dispatch: Dianne Bady left a legacy of a healthier region.
I hope you will help recognize OVEC's 30 years of work by taking part in our $30 for 30 campaign. 
---
Over the past year, OVEC has been celebrating 30 years of standing with citizens and communities threatened by polluting and extractive industries. In a perfect world, local, state, and federal politicians and agencies would do what they are paid to do: look out for the public interests, putting citizens' interests before corporate profits or self-interests. Unfortunately, it's not a perfect world, and in many cases, citizens must resort to "endless pressure, endlessly applied," in order to get an agency's or politician's attention. 
Thank goodness, Dianne Bady, her husband, Rick Bady, Ronald Goodman, Dan Kash, John
McHenry, and others saw the need to form OVEC, a small group of committed citizens that took on the hard task of confronting polluting industries (and would-be polluters)—a veritable living room group of volunteers—in our Tri-State region in 1987.
Until then, polluting industries in the lower Ohio River Valley had not been seriously challenged by citizens to follow environmental laws and regulations. Organizing in impacted communities was not only original, but also successful. Here we are, 30 years later, a well-respected, fully staffed organization that continues to amplify the voices of citizens who envision a healthier environment, intact mountains, and clean, potable water.
When the OVEC decided to incorporate (1989), they had to come up with a name rather quickly. OVEC's incorporated name is a mouthful: the Ohio River Valley Environmental Coalition, because the group then focused its efforts primarily along the lower Ohio River Valley in the Tri-State in Ohio, Kentucky, and West Virginia. Many times, OVEC (located in Huntington, WV) has been accused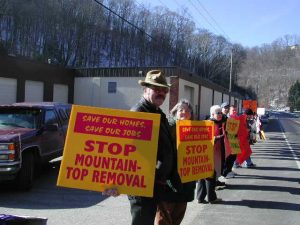 of being an "outside" group, because "Ohio" is in the organization's name! The name was shortened to (doing business as) Ohio Valley Environmental Coalition, and now, after 30 years of citizens' victories, both large and small, OVEC is known by its acronym. 
In the fall of 1998, when the issue of mountaintop removal mining was beginning to come to the forefront in West Virginia, the federal Office of Surface Mining and Reclamation held a regional coal symposium in Huntington at a downtown hotel. Around 50 citizens from five states were outside with protest signs, there to "greet" the attendees, including then-director of OSM Kathy Karpan. At a designated time, folks began to file into the meeting and line the walls of the room, while silently holding their signs. They waited until Karpan finished speaking, and then Kayla Bragg, a 10-year-old from Logan County, presented Karpan with The Coalfield Citizens Bill of Rights, followed by speeches from Carlos Gore, who spoke about the impacts of mountaintop removal on his home in Blair, and then Mimi Fillipelli who spoke about how longwall mining caused major subsidence problems for properties in Pennsylvania.
As the group of citizens began to silently file out through the emotionally charged room, the Buckeye Forest Council's Lisa Helms began to sing, "I've dreamed on this mountain since I was my mother's daughter and you can't just take my dreams away. You may drive a big machine, but I was born a great big woman and you can't just take my dreams away."
When the meeting reconvened after lunch, many people faced with the prospects of mountaintop removal returned and sat in the audience, including Jimmy Weekley, from Pigeon Roost Hollow in Blair, WV, who did so much to bring attention to the mountaintop removal issue. He had engaged attorney Joe Lovett (now director of the Appalachian Mountain Advocates) to help prevent Arch Coal from destroying the beloved mountains surrounding his ancestral home. 
One of the first speakers at the symposium was Blair Gardner, an attorney for Arch Coal. Each time Gardner began to speak, Jimmy stood up, loudly asking: "Mr. Blair. Mr. Blair. Will you come down to my home in Pigeon Roost Hollow? I want you to see what will be destroyed." [paraphrased]. After repeated interruptions, Joe Lovett, sitting next to OVEC staff member Janet Keating, asked her, "Do you think that you should ask Mr. Weekly to stop?"
She quickly replied: "No way. Let him be heard."
Each time Gardner tried to speak, Jimmy interrupted with the same heartfelt question. Gardner became increasingly uncomfortable and noticeably exasperated by Jimmy's non-stop interruptions. At last Gardner pleaded:  "If you will let me finish my talk, I will come and visit your home in Blair." Jimmy had been heard.
Not only did Gardner visit Jimmy in Pigeon Roost Hollow, but, while he was there, he and Jimmy were both interviewed by a reporter from National Public Radio—a story that aired nationally. Now that is citizen power!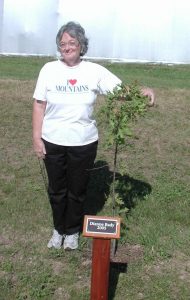 By 2005, not only was OVEC in the midst of efforts to end mountaintop removal mining, but the organization was also advocating for safer, cleaner renewable energy. Dianne Bady, OVEC founder and co-director, delivered a keynote speech at the 16th annual Renewable Energy and Sustainable Living Fair at the Renew the Earth Institute in Custer, Wisconsin. At that event, Dianne's many years of great work was recognized and honored by the planting of a young oak tree, and she proudly posed in her "I heart Mountains" T-shirt. (Wisconsin was Dianne's home state.)
"I am so grateful for this opportunity to connect the dots between the need for an energy policy that goes all out for renewable energy, our nation's ravenous electricity consumption, and the annihilation of huge swaths of southern West Virginia," Dianne told the crowd, noting that just over half of the country's electricity is currently generated by coal-fired power plants. (According to the US Energy Information Administration, in 2016, coal's energy-generating share was 30.4 percent and total renewables were at 14.9 percent.*)
She also said, "Armed with this knowledge, people are demanding an energy policy that pays more than lip service to truly cleaner renewable energies. I hope people who hear my speech will be further motivated to lead the movement demanding the changes we need to keep our country safe and strong."
One important lesson OVEC has learned over the past 30 years is the importance of staff members supporting one another in the work. A strong organization depends upon the ability to support one another beyond the tasks of day-to-day work. Sometimes, it means really being there for someone when a personal challenge surfaces. 
Back in the early 2000s, OVEC's then-Director Dianne Bady was diagnosed with early-stage lung cancer and lymphoma. Needless to say, Dianne needed to focus on her recovery at that time; OVEC staffers stepped in to fill the gaps. When Dianne returned to good health and work in 2006, it was clear that chemo-treatments and her recovery had taken a good deal out of her.
By that time, disparate groups throughout central Appalachia were facing many of the same problems. Fortunately, Dr. David Orr, who at that time was teaching environmental studies at Oberlin College, brought several groups from West Virginia, Kentucky, Virginia, Tennessee, and North Carolina together to discuss increased collaboration and the possibility of forming a coalition. By then OVEC efforts to end mountaintop removal were nearly into their first decade. 
Dianne wanted to attend this meeting but hadn't fully recovered physically or mentally. But, attend she did. Janet Keating was at her side every step of the way—driving her there, staying beside her, etc., much like OVEC works with community members facing environmental challenges—standing with them and providing important support wherever possible. And, as it turned out, this meeting was crucial in OVEC's organizational development, as well as in the formation of The Alliance for Appalachia.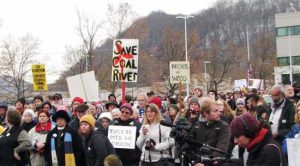 After forming The Alliance for Appalachia, groups working to end mountaintop removal held regular meetings, developed a collaborative strategy, and occasionally held joint actions. One such event included a protest in which speakers from local, state, regional, and national groups rallied at the WV Division of Environmental Protection, to express objections to mountaintop removal on West Virginia's Coal River Mountain. Among the speakers was Robert Kennedy, Jr., the head of the Waterkeepers Alliance and an outspoken opponent of MTR. To try to disrupt our event, a contingent of coal truck drivers circled the site.
As speakers took the stage, coal truck horns blared to drown out our words. When the quick-thinking Judy Bonds, from Coal River Mountain Watch, took her turn at the microphone and the horns began to blow, Judy bellowed, "Honk if you love mountains! Honk if you love mountains!" Needless to say, our crowd loved it!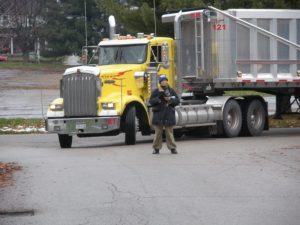 Nevertheless, those coal trucks just kept circling the block and driving near and behind the stage in order to disrupt the rally as much as possible—that is, until OVEC's Vivian Stockman stopped them in their tracks. As one trucker began driving down the alley, unbeknownst to all but Linda Frame who captured the moment, Vivian moved to the center of the alley and stood her ground in front of the truck. She was either courageous or crazy, which pretty much sums up much of the work we do while standing up to the most powerful and greedy industries in our state.
*According to a 2017 report, renewable energy is creating jobs 12 times faster than the rest of the economy. The study, published by the Environmental Defense Fund's (EDF) Climate Corps program, says that solar and wind jobs have grown at rates of about 20 percent annually in recent years, and sustainability now collectively represents four to four and a half million jobs in the U.S., up from 3.4 million in 2011.
Question for our politicians: Shouldn't a state and a people who have sacrificed so much to industrialize our nation benefit from some of these clean energy jobs?
Janet Keating, of Huntington, retired from OVEC in October, 2016. She was executive director of OVEC. Natalie Thompson, also of Huntington, is now OVEC's executive director.