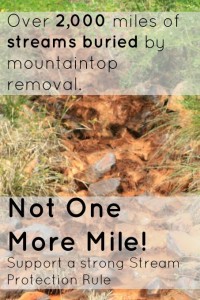 Update: Take easy e-action right here.
On September 17 the Office of Surface Mining Reclamation and Enforcement held a public hearing on its proposed Stream Protection Rule. Among the brave and eloquent speakers standing up for our water, our future were OVEC members Carey Jo Grace and Daile Boulis.
Read their moving, spot-on statements below, then please use their comments to inspire your own written comments, which can be submitted until October 26. Details on how to submit your comments are here. The direct page to which can post your comments is here.
We have some helpful talking points here in pdf format. We've also pasted them below, so that you can more easily cut and paste them for your own editing.
Get social, get others to comment. Here are some hashtags: #ourwaterourfuture #goSPR #StopMTR
Comments prepared by Carey Jo Grace
My name is Carey Jo Grace. I live in Charleston, WV. I'm a member of the Ohio Valley Environmental Coalition and work on a campaign to end child poverty in West Virginia. Just remember — half of the kids in our state live in families that struggle to make ends meet, and it's been that way for the last 150 years. So much for coal's boon to our economy.
Coal is an industry that has exploited Appalachians for too long — it's an industry that has eliminated jobs for decades, replacing men with machines; an industry that fights miners who apply for black lung benefits; an industry that declares bankruptcy to avoid paying hard-earned pensions; an industry that cuts safety corners and gets people killed — all to increase profits.
How can we expect such a self-serving industry to voluntarily stop polluting our water?
We can't. And we can't trust our WV state agencies to enforce the law, either. We need the federal government to intervene.
Federal regulations like the Stream Protection Rule are about justice — not just environmental justice, but economic justice as well. Those least able to afford to buy bottled water, replace their poisoned wells with municipal water, or move away from a contaminated yard live in the most affected areas. Economic diversification is limited in the coalfields, because what business wants to locate in a region where there's no clean water? And what could be a strong tourism industry is hurt when there are no fish in the streams, the water is orange, and the mountain tops are gone.
We need a strong Stream Protection Rule — one that allows citizens to sue when coal companies violate the law; that cleans up the mess we already have; and monitors directly at valley fills and outflows to prevent more of a mess.
Water is our most valuable resource. When coal barons and multinational corporations stop regulations that protect our streams and refuse to accept 21st century reality, our children's future is at risk.
I support the Stream Protection Rule because this is OUR WATER, OUR KIDS and OUR FUTURE.
—–
Bullet points prepared by Daile Boulis for her comments at the hearing
Citizen Enforcement is essential. We will step up if we know it's not futile.
We MUST have federal involvement because the states are failing to enforce the laws. Our state officials have been co-opted by the fossil fuel industry.
Citizens need the federal protections provided by the Stream Protection Rule.
Please, do not further extend the comment period for the Stream Protection Rule. It's just a delay tactic. I'm just a housewife and I was able to understand and formulate my comments in the allotted time.
We need the funding available through the Power Plus Plan to prevent complete economic failure throughout the region. An economy that is based in diversity, rather than having all of our eggs in the fossil fuel basket.
—–
STREAM PROTECTION RULE HEARING TALKING POINTS brought to you by Kanawha Forest Coalition, OVEC,Sierra Club West Virginia Chapter and West Virginia Rivers Coalition.
• Now is the time to fully protect America's waterways from destructive mining practices. To date, more than a thousand miles of Appalachian rivers and streams have been destroyed. We can and must do better.
• Citizens from across the country should have the right to take mining companies to the courts when their local waterways are in danger from destructive mining practices.
• The laws protecting our communities and natural spaces from mining pollution should be clear, enforceable and put the burden for cleaning up a mine's mess on the company that owns it.
• Our clean water protections should protect all American waterways equally from the dangers of mine pollution and destructive mining practices. From the smallest ephemeral stream to the widest river, each has a critical role to play in sustaining our ecological biodiversity.
• Citizen enforcement of federal pollution protections is the strongest way to ensure that our waterways are protected.
• The best protection our rivers lakes and streams can get is when we test pollution at its source, directly near an outfall or valley fill. The strongest data we can gather will lead to the strongest protections for communities and ecosystems harmed by mining pollution.
• The science is clear, stream restoration is the only proven way to ensure that harmed waterways return to their natural state.
• The Office of Surface Mining (OSM) must make sure that these water quality standards are enforceable under the Surface Mining and Reclamation Act (SMCRA) so citizens can engage in meaningful legal action to ensure the protections met, and when they are not, mining companies are held accountable.
• The Office of Surface mining must require pollution monitoring directly at valley fills, mining outfalls and other locations directly connected to mining operations.
• OSM must ensure stronger protections are possibly by adjusting its definition of "material damage" so that it falls in line with the Clean Water Act, in order to ensure the strongest shield against mining damage and pollution.
• OSM must ensure that streams are properly restored and not let mining companies continue the entirely ineffective process of building completely new "streams" instead.
• Strong Stream Protections Rules will go a long way to begin repairing the damage done by mining companies through long-wall, mountaintop removal and other highly destructive forms of this practice.
• Our rivers and streams form part of our national heritage, contributing to local economies and forming the foundation of many communities. Protecting them fully isn't only good ecology, its good policy.
• Citizens should always have a voice in protecting their local waterways. A strong Stream Protection Rule will ensure that concerned folks will have the ability to hold polluters accountable for years to come.