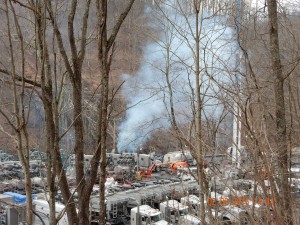 It's time to speak up about a proposed compressor station; you can comment in person or in writing: 
On October 13 at 6 p.m., the WV Department of Environmental Protection's Division of Air Quality (DAQ) will hold a public meeting at the Doddridge County Senior Citizens Center, 403 East Main Street, West Union, WV. The meeting is to provide information regarding Columbia Gas Transmission LLC's air quality permit application for a fracked gas compressor station, which would be called the Sherwood Compressor Station and would be built near Smithburg in Doddridge County, WV.
This compressor station would be one component of Columbia Gas' larger Mountaineer XPress Pipeline project, which involves 165 miles of various diameter pipeline, three new compressor stations (the other two in Calhoun and Jackson counties), modifications to three existing compressor stations and one regulating station.
Compressor stations can be nuisances in the communities where they are located because of the intense and constant noise and air pollutants emitted on a regular basis. They can also be a public safety hazard in that emissions of odorless and colorless, but toxic and highly explosive gas can occur. 
You can review the construction application, engineering evaluation/fact sheet, and draft permit Columbia Gas Transmission submitted to DEP here: 
http://www.dep.wv.gov/daq/Pages/NSRPermitsforReview.aspx
Copies are also available for public inspection during normal business hours at DEP, Division of Air Quality, 601 57th Street, SE, Charleston, WV 25304; telephone 304/926-0499, extension 1250.
Comments on the proposed application will be accepted until the end of the public meeting. All written comments should be addressed to: 
Jerry Williams, P.E.
Engineer
WVDEP – Division of Air Quality
601 57th Street, SE
Charleston, WV 25304
(304) 926-0499 ext. 1223
jerry.williams@wv.gov
Be sure to include the applicant's name and permit application number — Columbia Gas Transmission LLC, Sherwood Compressor Station, R13-3313 — along with your name, return address and daytime telephone number. Please also indicate any organization on behalf of which your comments are submitted.
We've posted more about compressor stations here. If you need some help developing comments about this compressor station, here are comments OVEC submitted earlier this year: