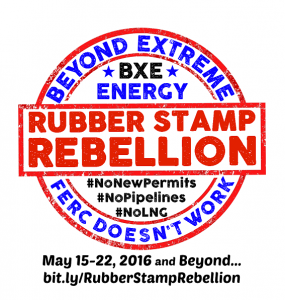 May 12 update: One seat open for the trip to D.C. Leave date in now May 16.
So why am I planning to go to D.C. again, this time to participate in Beyond Extreme Energy's Rubberstamp Rebellion?
Mainly, it comes from something Bill Hughes said at the Marcellus Academy last year: fracking infrastructure is mutually interdependent. Gas wells, gas pipelines, and compressor stations—stop one and you've stopped them all. It's FERC that okays the pipelines that would transport the gas sucked out from under our homes in the western part of the state  (polluting our air and water and damaging our roads and communities in the process), over the mountains (risking catastrophic leaks and explosions and damaging more people's homes) to use in the coastal cities, or to export. And at each stage, methane leaks and adds its hard punch to the already staggering climate system.
The Rubberstamp Rebellion targets primarily FERC, which has been rubberstamping these permits for decades but recently denied one for the first time in 30 years. Maybe the pressure is working?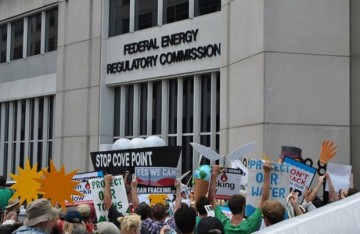 Beyond Extreme Energy's Rubber Stamp Rebellion follows immediately after the worldwide wave of actions called Break Free from Fossil Fuels, organized by 350.org and a bunch of other groups. It seems the climate movement is taking off, and getting more militant—a change that is desperately needed. Our children face a radically impoverished and difficult world… even if we turn things around and make the changes we should have made 20 years ago. If we don't—well, it scarcely bears thinking about the world they'll inherit then. I feel obliged to do all I can in this critical time to reduce the damage.
I'm going to BXE's Rubber Stamp Rebellion with a friend, and we will have room in the car for two more people. Gas and other costs will be covered. We've got lodging (bedrolls on the floor) and meals will be provided. Our current plan is to leave here (central West Virginia) on May 17 and return on May 20. Leave a comment on this blog or e-mail info@ohvec.org to inquire about joining our trek to the Rubber Stamp Rebellion.

BXE organizer Lee Stewart says, "The actions will take place at FERC, they will be lively, creative, and involve arts, props, and music. Non-violent civil disobedience might be an option for those who choose to participate in that way as well, but wouldn't be required. You might be interested to know that special guests will be joining us on the 19th, including Keystone XL pipeline fighter and founder of Bold Nebraska, Jane Kleeb, as well as singer/songwriter Bethany Yarrow (the daughter of Peter Yarrow from Peter, Paul, and Mary)."
Want to go? Is this the time for you to put your small mark on history, to help bend the arc toward justice, toward rescuing ecosystems from the fossil fuel gun, toward that better world that really is possible?
Here's more about what's going on in D.C. from Ted Glick:
Dear Friends,
On the morning of May 19, the four Commissioners of the Federal Energy Regulatory Commission, FERC, will be having their monthly public meeting. For the last 18 months, Beyond Extreme Energy has been at every one of those meetings. We have been outside calling attention to FERC's rubber-stamping ways on behalf of the oil and gas industry, and we have gone inside.
Some of us have interrupted and spoken up while inside. We have called upon FERC to stop granting permits for the expansion of fossil fuel infrastructure and, instead, prioritize the rapid expansion of wind, solar and other truly clean and renewable energy sources. The health of communities and the planet depends on making energy generation and distribution locally sourced, democratically controlled, and greenhouse gas-free.
We want this action on the morning of May 19 to be our strongest and biggest one yet. Please make plans to join us that day!
We'll be gathering at 8 a.m. to greet FERC employees as they enter the building and to hear from Jane Kleeb, Rev. Lennox Yearwood and Mike Tidwell, as well as stirring songs from Luci Murphy and Bethany Yarrow. We will continue our presence outside until 9:30. At that point those who wish to do so are encouraged to go into FERC to attend the public meeting.
This action on the 19 is part of Beyond Extreme Energy's week-long Rubber Stamp Rebellion, beginning on May 15 after the D.C. Break Free from Fossil Fuels action, which begins at 1 p.m. at the White House. More information on the week can be found at http://beyondextremeenergy.org.
FERC, by design, is beholden to the oil and gas industry. It receives its funding from the permits it issues and rubber-stamps virtually every project that crosses its desk. In addition, the revolving door between FERC and the industry promotes friendly ties between both groups of employees and leaders.
The FERC review process is a farce. The agency acts as a rubber stamp for the industry and does not adequately consider climate and environmental impacts. It does not adequately consider the health and safety impacts for people who live in communities where the industry wants to construct infrastructure.
Join the Rubber Stamp Rebellion on May 19! Make plans to get to work late, bring your children and your friends, help us spread the word widely, and join us for this important action!
For Beyond Extreme Energy,
Ted Glick
P.S. FERC is easy to get to via the Metro. It is three blocks up 1st St. NE from Union Station, a stop on the Metro Red line and for MARC and Amtrak trains, at 888 1st St. NE.