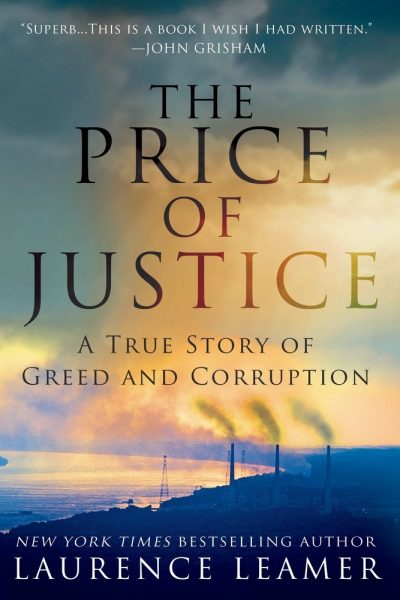 Can a plot get any better? Murder of ideals, people (some would say), graft, greed, toxic
liaisons, courtroom drama, cruelty, disregard of the spirit of the law, poor boy makes good, rich
boy goes bad, the rich against the poor: it is all here, in The Price of Justice, by Lawrence Leamer.
Now, big fish eating little fish may be part of the natural order of things—for fish. But, when
people try to do it, nastiness always follows. In this election year, are you thinking, perhaps, of
Donald Trump?
But wait! There is another Donald in this story: Blankenship. Both Donalds are large and portly,
but the resemblance here is more than physical. Their mantras seem to be the same: never
admit wrong, hit harder, take a mile when offered an inch, and never look back. Blankenship is
in jail now, for his part in the Upper Big Branch mine disaster in which 29 miners were killed. Life
has a way of catching up on one, eh?
The Price Of Justice follows a decade in the lives of two West Virginians, Hugh Caperton, CEO
of the small Harman Mining Company (little fish), and Don Blankenship, CEO of the massive
Massey Energy Company (much bigger fish). This struggle for justice was manifest in the form
of a lawsuit brought by Caperton, alleging that Blankenship maliciously ruined his company in a
time of diminishing coal reserves and increasing alternative sources of energy.
Author Leamer enters the world of lawyerly process and persistence as the case is
tried in two states, as well as in the Supreme Court of the United States. Caperton won fifty
million dollars in Virginia, where Massey was based (it is now defunct), and then lost on appeal
three times in West Virginia, where the coal operations and cozy corporation-Supreme Court
relations were.
The credibility, or lack thereof, of the WV justices who voted to deny the win, hinges on the
friendship between Blankenship and one judge in particular, and his friendship with two other
judges of the five on the court. If justice was ever not blind, it is in this instance. How this
became known (or finally needed to be acknowledged), is an interesting and surprisingly crucial
element in this saga.
Caperton, to the WV wealthy coal manor born, was a risky, rangy guy who, when not attempting
to expand his coal reserves, was attempting to revive them—and then survive them.
Blankenship saw an opportunity in Caperton`s folly of overextension to seduce him out of the
coal business by forcing him into bankruptcy. That is when Caperton decided to sue.
As this is written, the interest on the original award has increased it to more than twice that
amount. Why was it not paid when the case was first won? The reason is both simple and
complex: lawyers work for those who pay them and then continue to pay them. Blankenship`s
financial reserves and hostility to competition seemed almost endless, and his lawyers freely
employed the not uncommon tactics of "delay, divert, and complicate," over many years to
thwart justice.
It was a lucky thing that Massey`s lawyers were matched in acumen by two determined peers
and one nationally recognized, but initially reluctant, player: one with coal country origins, Bruce
E. Stanley, who knew country people and their ways; David B. Fawcett, Jr., from a large
Pittsburgh firm used to winning high-powered cases; and one of national conservative
reputation and experience before the Supreme Court of the United States, who knew when a
wrong needed to be righted, Theodore B. Olsen. Mr. Olsen, you will remember, argued for
Citizens United, and against California anti-gay legislation, and for the national right of
gays to marry. He is a model of integrity personified in that he fights for what he believes is right. The continuing professional doggedness of these heroes should give hope to us all.
As of this writing, the case will be tried yet again. And, justice may finally be won, finally. After
paying all his creditors and investors, Mr. Caperton may be a very rich plaintiff indeed.
In life, it is frustrating to feel you are ahead when you are behind, or that you have won when
you have lost, when one step forward becomes two back. The Price of Justice chronicles these
frustrations, of years of wins, delays, obfuscations, and losses.
Leamer`s writing is as clear and compelling as that of a best-selling novel. However, what
makes this book integral to one`s understanding of corruption at the highest court in the
Mountaineer state and corpora .te levels, is that it is all true. Which should give us all some
pause as we continue to place our trust in the institutions that our founding fathers created
(believe it or not), to protect "We, The People." Some institutions may be good and others may
be great; as for the others, well, we have our hallowed right as citizens to vote the bums out.
One former WV Supreme Court judge can attest to that.
Frank E. Grant, Ph.D., is a sustaining OVEC member. His opinions here do not necessarily reflect any official OVEC view or policy.
Frank will be reviewing books that in some manner include a mention of OVEC's work. The Price of Justice includes a thank you to OVEC staff member Vivian Stockman, who spoke with Leamer as he carried out research for this book. 
Remember, a push is on to have folks write letters to Blankenship while his in prison. Details here.