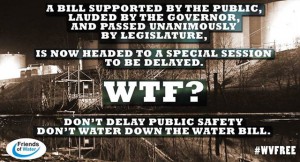 Due to this: Kessler, Miley want special session to delay chemical tank safety deadline, we are asking you to call Governor Earl Ray Tomblin (304-558-2000), Senate President Jeff Kessler (304-357-7801) and House Speaker Miley (304-340-3210) to let them know that the public does NOT want to delay the implementation of SB 373, the Water Bill.
SB 373 was passed in response to the Freedom Industries chemical spill that contaminated the drinking water of more than 300,000 West Virginians. It was strenuously negotiated, passed both houses unanimously to overwhelming public support and was lauded by the Governor. Interim guidelines for inspection have been available through the WV Department of Environmental Protection (DEP) website for months. There should NOT be a delay now.
Legislative leaders argue the delay is needed to prevent "uncertainty [for] affected industries and the families that rely on them for employment." However, the spill cost businesses $61 million according to a preliminary economic impact study. Small businesses such as medical offices, restaurants, hotels, and retail stores that need clean water to operate, the families that rely on them for employment, and others affected by the spill also need certainty and assurances that another disaster like this won't happen again.
Please call Governor Tomblin, Senate President Kessler and Speaker Miley and tell them, "Don't delay public safety. Don't water down the water bill."