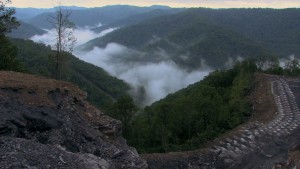 TUESDAY, MAY 26: World Premiere of Blood on the Mountain Brings Labor, Environmentalists Together 
NEW YORK CITY, NY ­­ Sierra Club and AFL-CIO, in association with the Workers Unite! Film Festival will co-host a world premiere celebrating release of the extraordinary new documentary feature film, Blood On The Mountain.
What: From the Producers of The Appalachians and Coal Country, Blood on the Mountain is a searing investigation into the economic and environmental injustices that have resulted from corporate industrial control in West Virginia, and the ripple effects on American workers.
The film details the struggles of a hard-working, misunderstood people, who have historically faced limited choices and have never benefited fairly from the abundant natural resources of their land. Blood on the Mountain presents a striking portrait of a fractured population, exploited and besieged by corporate interests and abandoned by the powers elected to represent them. View an excerpt from the film here.
When: Tuesday, May 26. 7PM
Where: Anthology Film Archives, 32 2nd Ave, New York, NY, 10003
Who: Host Committee Includes: Brad Markell, AFL-CIO; Dean Hubbard, Sierra Club; Larry Cox, The Poverty Initiative, Kairos Institute; Cathy Albisi, National Economic and Social Rights Initiative; Gene Carroll, The Worker Institute, Cornell University.
About the Film: Blood On The Mountain serves as a bridge fostering collaboration on a grand scale between many working partners fighting for the rights of Appalachians, the protection of our natural resources, the environment and all American workers. These struggles must be fought over and over again with the understanding that complacency leads to exploitation and that we must ever be on guard to protect those rights.
Blood On The Mountain arrives at a critical moment in history. Coal reserves and jobs are in decline, and state and federal policymakers are now tasked with charting the way forward to a sustainable economic future. Appalachians, miners and their families cannot wait any longer for the economic fairness and good jobs they deserve, and the story told in this searing documentary will make clear that we should all work together and see to it that the people of Appalachia get what they so richly deserve.
Tickets for general admission here.
Evening Star Productions presents: Blood On The Mountain: Directed by Mari-Lynn Evans and Jordan Freeman
Producers: Deborah Wallace, Mari-Lynn Evans, Jordan Freeman. Editor: Matthew Sanchez