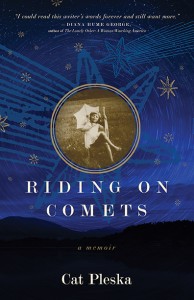 You are invited to meet West Virginia author Cat Pleska as she reads from her new memoir and leads a creative writing workshop.
On Saturday, October 17, join event sponsors Coalfield Development Corporation at West Edge Factory,1040 Vernon St., in the Westmoreland neighborhood of Huntington, WV.
From 10:30 a.m. to 12:00 p.m., Pleska will read from and sign her recently-published memoir, Riding on Comets, about growing up in West Virginia. Light refreshments will be served at this free event.
The workshop is titled: WORK! How to Think and Write about the Jobs/Work that Define our Lives. It runs from 1-4 p.m. and costs $15 per person.
As Pleska notes:
Work takes up a significant portion of our lives. The work that we do often plays a role in how we define ourselves and our own personal happiness. It's something that we often don't stop to think about deeply. Here's our chance! In this workshop, we'll think about and write about work, what it means to us, to others, how it defines us, sometimes destroys us, makes us stronger and happier. What does it mean to work all our lives or just some of it? What kind of work really helps us be safe and secure? What does work mean to you?
Pleska is a seventh generation West Virginian, from a working class family. She is an author, editor, educator and storyteller. Pleska is not only a first generation college graduate, but also a first generation high school graduate, save her great grandfather who was a circuit-riding school teacher. She holds degrees in English, Humanities, and writing.
Pleska's first book, Riding on Comets: a Memoir, was published May 2015 by West Virginia University Press. She is published in several magazines and newspapers throughout the region. She lives in Scott Depot with her family.
Coalfield Executive Director Brandon Dennison says:
West Edge is the perfect place to host this workshop. This building used to be the Corbin Textile Factory. Thousands of people worked here. There are so many work stories living in these brick walls and wooden rafters. We're thrilled to engage our community through this creative event. Everyone is sure to walk away with a deeper understanding of themselves, their community, and their work.
The Coalfield Development Corporation is a licensed general contractor that is involved in several types of construction in the community as well as deconstruction projects.
Coalfield's Quality Jobs initiative (QJI) is structured on a '33-6-3' model where crew members participate in QJI work for Coalfield doing hands-on construction work for 33 hours a week. Six hours a week are devoted to classes in which crew members attend a local community college for all general and major course classes. Along with the course work, local community colleges partner with Coalfield by providing academic credit for certain on-the-job training activities that take place during the 33-hour portion of work. This enables crew members to essentially be full time students while completing an associate's degree in two years' time. Crew members also commit to fully participating in three hours of life skills training a week where they are challenged to learn about managing finances, culture, physical health, and other factors necessary to live a quality life.