On May 10, 2017, SouthWings took OVEC on a flyover of the WV Marcellus Shale frack fields, over points in Doddridge, Wetzel and Marshall Counties. Bill Hughes had suggested the route; he was aboard the plane, along with our volunteer SouthWings pilot and me. Bill has been monitoring the impacts of hydraulic fracturing and related activities in and around his home county of Wetzel since the fracking invasion started in 2007.
We flew pretty much due west out of the North Central West Virginia Airport, near Bridgeport, heading toward the massive MarkWest Sherwood processing complex in Doddridge County.
Soon after we were in the air, we started seeing signs of fracking-related activity and the associated pipeline build-out. Below, in the photo at left, the brown swath in the left foreground is clear-cutting in prep for a pipeline (likely the already disastrous Rover; see some of the news coverage here, here, here, and here), the dark stripes are older, smaller pipelines, and the grey squiggles at right are roads to well pads, the circular grey blob near center and right edge of the photo is a well pad.
As you can see, all the fracking activity is clearly fragmenting the forest. In the photo at right, you see smoke rising–that's the clear-cut trees being burned. Think about the assorted climate impacts: heavy equipment exhaust in many phases of the fracking-related processes, including methane releases during fracking, clearing trees, burning trees, emissions from the assorted compressor and processing stations…. (Click on photos to open larger images.)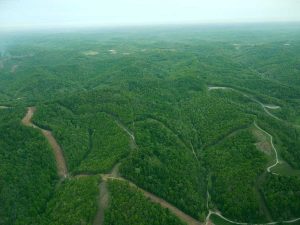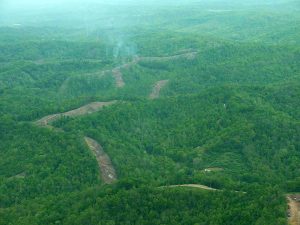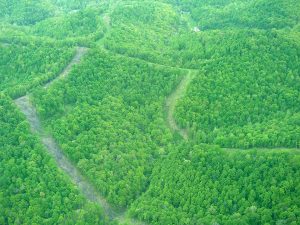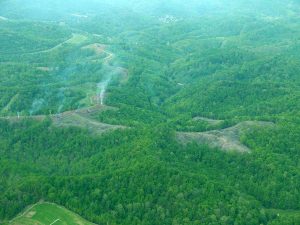 Above: closer shots of tree burning and clear-cutting in advance of a pipeline.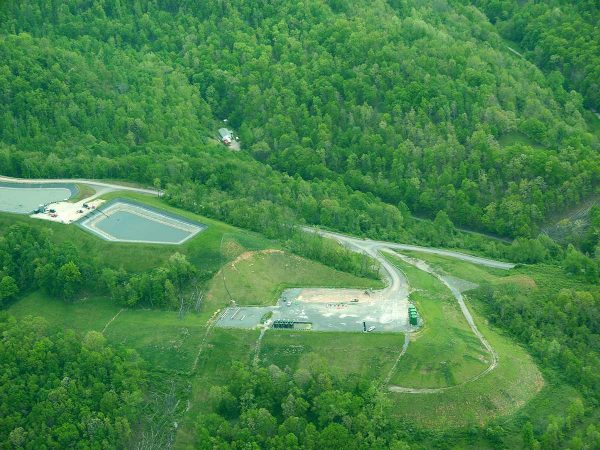 Above: A well pad and a holding pond, with a home nearby.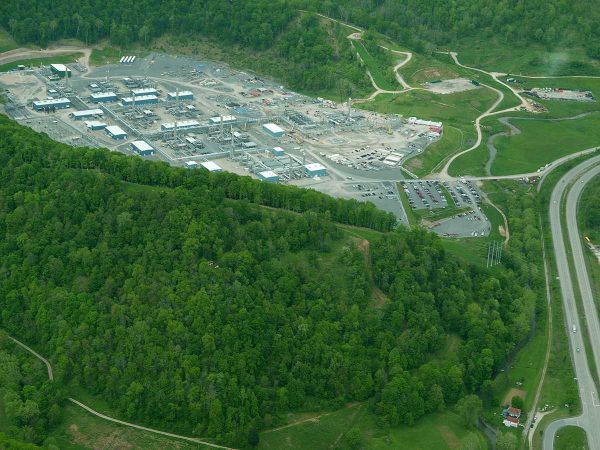 Above, and the next six shots below:
The MarkWest Sherwood processing complex along Route 50.