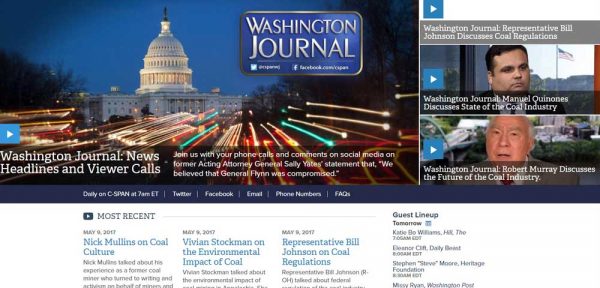 On May 9, C-SPAN's Washington Journal program focused on coal. The show's host invited OVEC to give our perspective on the issue. Appearing sequentially that morning, live, to answer caller questions were Murray Energy CEO Bob Murray, Ohio Congressman Bill Johnson, me (Vivian Stockman, OVEC's vice director), and former coal miner Nick Mullins, who blogs as the Thoughtful Miner. E&E Deputy Editor Manual Quiñones also spoke. (Follow links to view the segments.)
Several of us were on a location that C-SPAN had selected, outside, at a Powhatan Point, OH, Murray Energy facility along the Ohio River. Strangely, Murray was interviewed elsewhere. 
On May 10, our great friends at SouthWings took Bill Hughes and I on a  photography flyover of the fracking operations and pipelines that are wrecking Doddridge and Wetzel counties (photos not posted yet). We were close to Powhatan Point, so we circled overhead before landing back at Clarksburg. 
Here are some May 10 aerial shots of the May 9 show's location. I think the shots underscore some of the points I was trying to make (while squinting).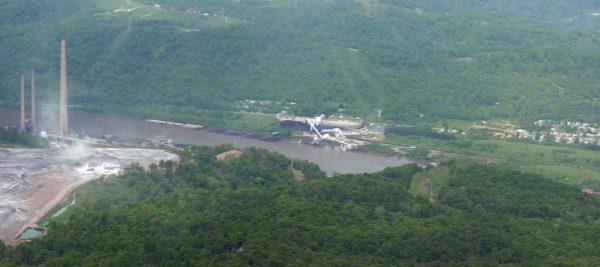 Above, center: The Murray Energy property from which Washington Journal broadcast live. In upcoming shots. 
Above: You can still see the location, plus the shuttered coal-fired power plant smokestacks that were in the background of the shots, a bit of the operating plant and its emissions, and some of the piles and lagoons of power plant waste, toxic coal ash.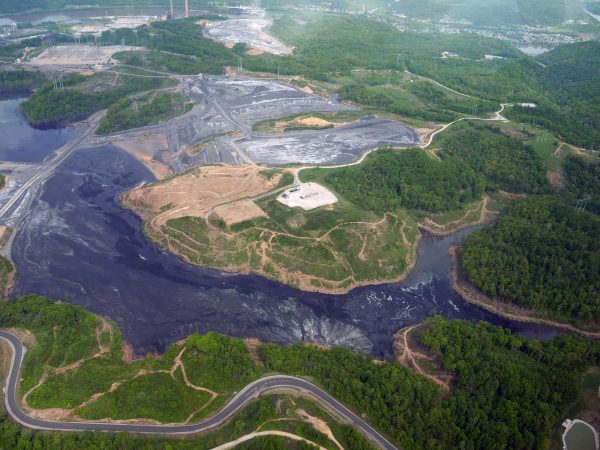 Toxic coal ash lake at the edge of the power plant property. The white blob in the middle is a deep shale fracking site!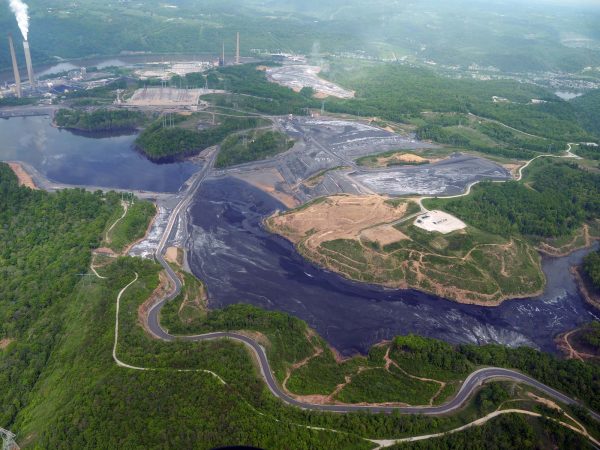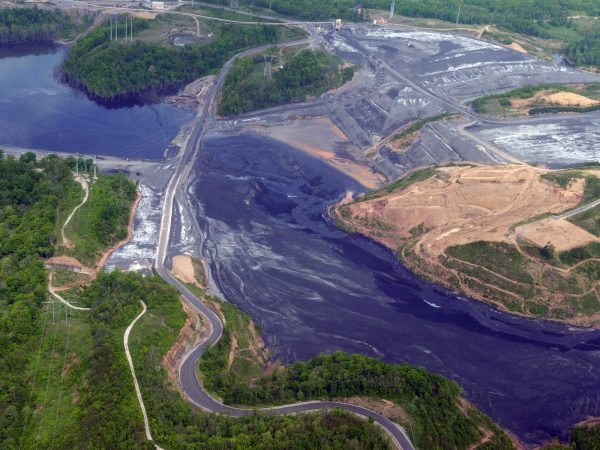 A little closer in on all that swell 'clean' coal!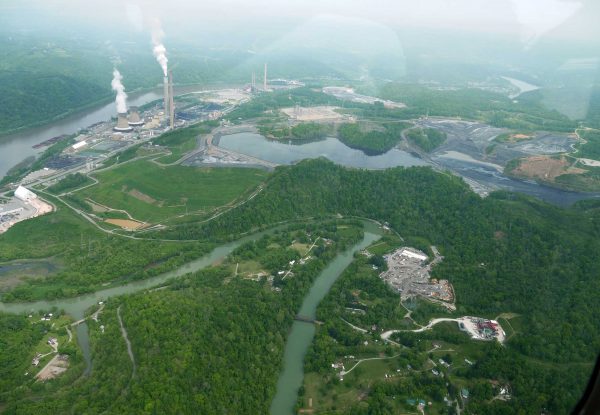 The white road in the foreground leads to another fracking site, in case folks living nearby didn't have enough pollution to breathe on a daily basis.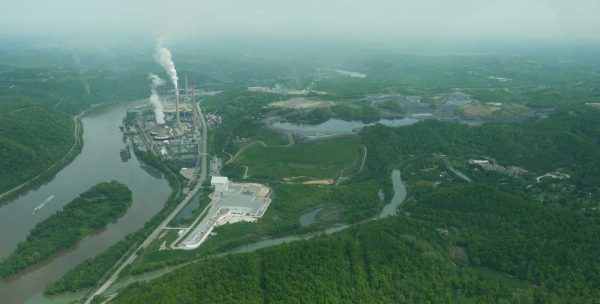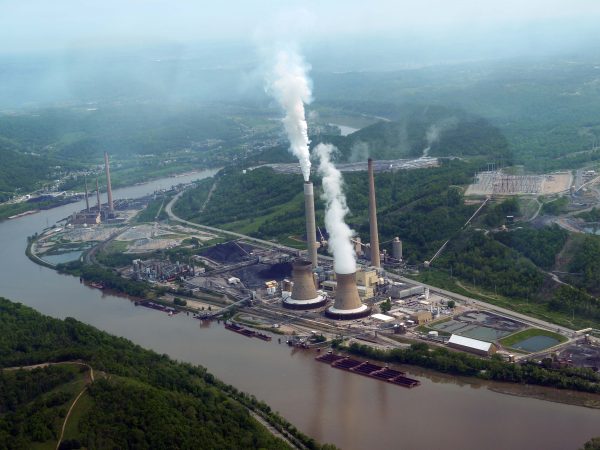 Above: As we make the loop around the power plant, we see coal barges in the Ohio River (the most polluted river in the United States; drinking water source for three to five million people), and, on left, just beyond the bend in the river, the show site comes back into view.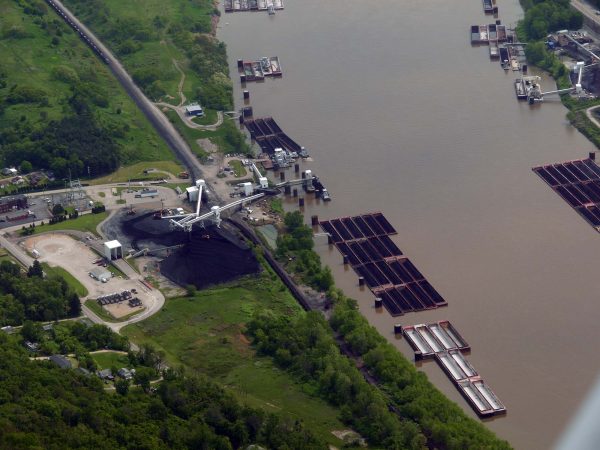 We were in the parking lot in front of the big piles of coal.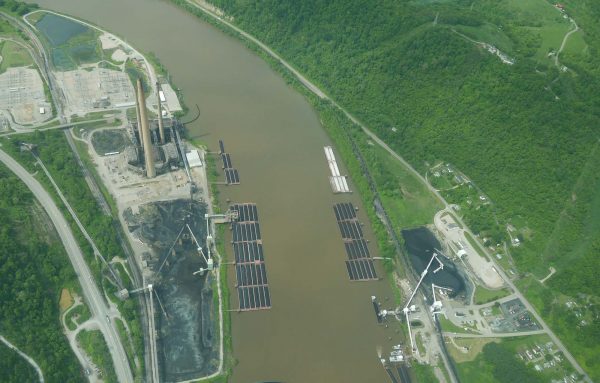 TUES| Live from #Ohio examining the #coal industry w/ @ManuelQ, @MurrayEnergyC, @RepBillJohnson (R-OH), @OVEC_WV, & @ThoughtfulMiner pic.twitter.com/b3YzZzCdgJ

— Washington Journal (@cspanwj) May 6, 2017
ICYMI: Vivian Stockman @OVEC_WV talked about the #environmental impacts of #coal #mining https://t.co/6WAd2zbTce pic.twitter.com/utWWzXmTq3

— Washington Journal (@cspanwj) May 9, 2017